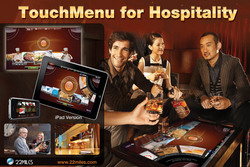 Multi-Touch systems at an industrial level are now able to serve real businesses. 22MILES Multi-Touch Wayfinding system is the pioneer of the new-generation interactive wayfinding solutions.
Las Vegas, Nevada (PRWEB) June 9, 2010
22Miles, Inc. (22MILES), a U.S Navy multi-touch solution provider and Microsoft Code7 Grand Prize Winner with its multi-touch wayfinding system, has announced that it has been officially selected as the interactive directory and wayfinding solution provider for the InfoComm 2010 Trade Show.
The intuitive 22MILES Multi-Touch Wayfinding and Directory system will help over 30,000 attendees virtually navigate the trade show floor to promptly locate 900 exhibitors and over 300 expert-led labs and workshops. Equipped with the eye-catching floor map, the animated route display, and the searchable touchscreen directory, 22MILES Multi-Touch Wayfinding Kiosks located at the registration area and main entrance of InfoComm10 are sure to be a hit. Visitors will be able to easily maneuver their way around the show floor with a simple touch to the on-screen map or legend icons, a smart search in the digital directory, or a quick browse of the comprehensive event calendar to find exhibitor booths, attend scheduled demo sessions, and spot facilities like elevators and restrooms.
Aside from the aforementioned features of this industry-leading wayfinder and directory, the 22MILES system was ultimately chosen by InfoComm 2010 for its ability to effortlessly manage booth locations and exhibitor profiles. Both hardware and software inside of those kiosks are designed for a 24/7 industrial use with hot swap ready for an emergency repair. With an easy-to-use content management desktop software tool, the networked kiosk systems can quickly and seamlessly scale to accommodate the increasing changes of floor plans and directory information. They can also be moved around the exhibit hall at any time, with just 1-click to dynamically update the route finders throughout the systems. Optionally, the 22MILES system is fully capable of being used as a security and emergency notification tool when collaborating with the convention center's existing systems.
Other popular benefits of the 22MILES wayfinding solution include advertising and multimedia integration with easy upkeep and various widget plugins, like Digital Concierge. Jeffery Tan, the marketing manager of 22MILES explains, "Multi-Touch systems at an industrial level are now able to serve real businesses. 22MILES Multi-Touch Wayfinding system is the pioneer of the new-generation interactive wayfinding solutions. Building managers love the flexible marketing platform we offer. In addition to the standard digital ads, they like getting creative by offering tiered ad integration options to their customers. From flashing or static thumbnail ads on the floor map itself to a live webcam of an event, there are options for any business. They also find the networked content management tool easy-to-use, keeping advertising and promotions up-to-date and accurate." Jeffery continues, "Customers are equally impressed with the rich multimedia content and find plug-ins like the Digital Concierge convenient and informative."
Some of their product videos for InfoComm 2010 trade show can be viewed at http://www.22miles.com/infocomm
About 22MILES - Located in the heart of the Silicon Valley, 22miles, Inc. specializes in Wayfinding Kiosk Information System, TouchMenu, and Trade Show Presentation solutions. As the Grand Prize winner out of over 4000 participants at the 2009 Microsoft Code 7 Contest, 22MMILES was recognized as an industry leader for its multi-touch interface design and coding excellence. The 22miles Wayfinding solution is well-suited to all types of dynamic wayfinding kiosk installations including: convention centers, shopping malls, hospitals, hotels, grocery stores, and office buildings.
About InfoComm 2010 -- one of the largest pro-AV events in the world. More than 900 exhibitors bring the show floor to life, and more than 32,000 professionals from 90+ countries are expected in Las Vegas. From audio components to telepresence systems, digital signage to 3D projectors, InfoComm 2010 showcases the hottest products and latest applications like no other industry gathering.
# # #