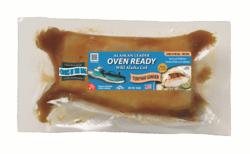 The Mylar® COOK film concept is unique in the market. We are delighted about the cooperation agreement with DuPont Teijin Films, with whom we have successfully implemented several projects, including our latest with Alaskan Leader Seafoods of Seattle, Wa
Kansas City, Missouri (PRWEB) February 26, 2013
MYLAR® COOK material is a thermoformable film which was developed for the preparation of food in the high temperature range up to 218 degrees Celsius (425 degrees Fahrenheit). The food product, such as fish and seafood, may be cooked in a wide variety of ovens in its sealed package. Due to this process, the aromas, vitamins, minerals and inherent moisture of the product are largely retained during the cooking process. When a certain pressure is reached, the seal seam of the pack opens by itself. Browning of the fish or seafood then occurs. The constant heat transfer during the two cooking phases ensures consistent cooking results and reduces cooking time by up to 30 percent.
"The Mylar® COOK film concept is unique in the market. We are delighted about the cooperation agreement with DuPont Teijin Films, with whom we have already successfully implemented several projects, including our latest with Alaskan Leader Seafoods of Seattle, Washington," emphasizes Frank Barel, national sales manager of MULTIVAC, Inc.'s Direct Packaging Materials group.
MYLAR® COOK film was originally developed for the packaging of proteins (fish, meat, etc.). Since then, other areas of application have emerged, such as packaging of baked goods (pizzas, muffins, croissants, partially baked breads, etc.).
MYLAR® COOK film offers users a high level of food safety as cooks do not come into contact with the raw fish/seafood ("no-touch" concept) which significantly reduces the risk of cross contamination. The self-contained cooking system also reduces clean-up time and water consumption. Strong and leak-proof seals, as well as a high degree of puncture resistance, are among the key packaging properties of MYLAR® COOK film.
DuPont Teijin Films holds all relevant certifications with regard to direct food contact with plastic packaging in high temperature applications up to 218 degrees Celsius (425 degrees Fahrenheit): MYLAR® COOK film complies with the directives of the US Food and Drug Administration (FDA), as well as those of the European Union and the Canadian Food Inspection Agency (CFIA). The manufacture of MYLAR® COOK film is in accordance with the regulations of the BRC/IOP worldwide packaging standard and is certified to ISO 9001, IMS and HACCP.
MULTIVAC, Inc. is the leading manufacturer of thermoform fill-seal rollstock packaging solutions, robotic loading, vacuum chamber packaging machines, traysealers, shrink tanks, and both cross-web and inline labelers for food, medical and consumer product applications. From its North American headquarters, located in Kansas City, Missouri, the company provides strategic consultation, technical design, sales, distribution, and service of MULTIVAC's complete line of packaging systems. MULTIVAC maintains a comprehensive, on-site parts inventory, and offers 24X7 technical assistance and certified training for its entire line of equipment. To date, the company has designed and implemented over 100,000 packaging solutions.