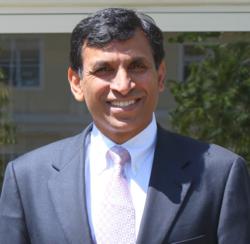 According to Dr. Anil Maheshwari who will direct the (MIS) program, information technology comprises 2–10% of the operating budget of any major company making it an important investment.
Fairfield, Iowa (PRWEB) April 22, 2013
In response to the ever-increasing role of information technology in organizations, Maharishi University of Management will offer a graduate-level certificate in Management Information Systems via distance education beginning this fall.
According to Dr. Anil Maheshwari who will direct the program, information technology comprises 2–10% of the operating budget of any major company making it an important investment.
"It's important to understand how to make the best use of this technology and how to prioritize," he says. "The technology is easy to buy but must be deployed effectively."
Students will complete 18 credit hours over a period of two-to-four semesters. The program is intended for those who are programmers or who have technical experience.
The training will enable them to become managers, directors, and chief information officers.
"The curriculum is structured for those who know technology and are already working," Dr. Maheshwari said. "They will be able to further their career. It will be especially suited to alumni of the Computer Professionals Program."
He said that organizations constantly face a plethora of decisions related to technology, such as whether to use cloud computing, how to secure their networks, whether to purchase new systems or develop in-house, and how to ensure that the technology is actually being used.
The discipline of Management Information Systems teaches students to deal with business issues, processes, strategy, security, project management, resiliency, and data analysis.
Dr. Maheshwari said that companies must also consider using the Internet to gain a competitive advantage. The discipline of MIS teaches students to evaluate options such as using the Internet for educating their clientele, for e-commerce, and for self-service customer support.
"These new ways of doing business have many advantages," he said. "Companies don't want to be at a competitive disadvantage by missing out on this opportunity."
When asked about the initial response to this new graduate certificate program, Dr. Maheshwari said, "The response from prospective students has been very encouraging. We have received inquiries from more than a dozen countries. Most of them are from working IT professionals."
For students who are new to MUM's system of Consciousness-Based℠ Education, this program will provide a unique blend of knowledge of MIS with knowledge and development of consciousness that can help launch their career on a faster track. This program will be offered fall 2013.
For more information about the course, see http://mum.edu/MISCertificate, and the brochure.
Upon graduation from the MIS Certificate program, students will also have the option to complete the MBA degree at MUM with an additional 42 credits of study over two years in the Evening-Weekend MBA program, which will officially go online in the fall 2013 semester.
Founded in 1971, Maharishi University of Management (MUM) offers Consciousness-Based℠ Education, a traditional academic curriculum enhanced with self-development programs like the Transcendental Meditation® technique. Students are encouraged to follow a more sustainable routine of study, socializing and rest without the typical college burnout. All aspects of campus life nourish the body and mind, including organic vegetarian meals served fresh daily. Located in Fairfield, Iowa, MUM is accredited by The Higher Learning Commission and offers bachelor's, master's, and doctoral degrees in the arts, sciences, humanities, and business. Visitors Weekends are held throughout the year. For more information, call the Admissions Office at 800-369-6480 or visit http://www.mum.edu.