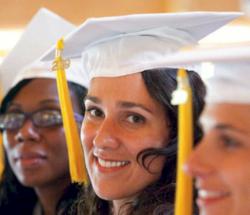 As a result of larger enrollments over the past several years, Maharishi University of Management will graduate its largest class ever.
Fairfield, Iowa (PRWEB) May 23, 2013
As a result of larger enrollments over the past several years, on Saturday, May 25, Maharishi University of Management will graduate its largest class ever. MUMTV will Webcast M.U.M.'s 2013 Awards Ceremony, Friday, May 24, 7:45 p.m. CST.
Comprising 334 students from 54 countries, the 2013 graduating class includes 251 graduates and 83 undergraduates.
The number of graduates per degree program consist of 152 in Compro, the Computer Professionals Masters Program; 69 MBA; 22 MA in MVS, Maharishi Vedic Science; 4 MA in Education; 3 PhD in Management, 1 PhD in MVS.
The number of undergraduate majors will be 19 in Sustainable Living, 19 in Media and Communications, 15 in Physiology and Health, 12 in Business, 9 in Literature, and the remaining 9 in Art, MVS, Education, Mathematics, and Individualized Majors.
A special 2013 Awards Ceremony will take place the night before in Dalby Assembly Hall of the Argiro Student Center. MUMTV will provide live coverage of the event, Friday, May 24 at 7:45 p.m. CST. Visit http://www.mum.edu/2013awardsceremony to view it online.
The Commencement Awards Ceremony is an opportunity for faculty to recognize those outstanding students who will be graduating with distinctions, the Outstanding Student of the year, along with class Valedictorian and Salutatorian. A professor from each respective department will give a speech praising the student's accomplishments. Students also take this opportunity to praise their teachers. It's a heartwarming mutual appreciation fest that caps off the school year for everyone present to enjoy.
At the Saturday 2013 Commencement Ceremony, Iowa Senator Tom Harkin will deliver the commencement address. As part of the ceremonies he will be awarded a Doctor of Laws Honoris Causa degree for his extraordinary lifelong service and compassionate and progressive leadership for the state of Iowa and the United States of America.
Senator Tom Harkin has served in the Senate since 1985 and also served in the House of Representatives from 1975–1985. He is chairman of the Senate Committee on Health, Education, Labor and Pensions and is the seventh most senior Senator overall.
Also receiving an honorary doctorate will be venture capitalist and entrepreneur Nat Goldhaber for his role in helping found Maharishi International University in 1971, now Maharishi University of Management.
The public is invited to attend the 2013 Commencement ceremony Saturday, May 25, at 1 p.m. in the Maharishi Patanjali Golden Dome. Excerpts from the Commencement Ceremonies will be posted later on the MaharishiUniversity YouTube channel.
Founded in 1971, Maharishi University of Management (MUM) is a unique private institution that offers Consciousness-Based℠ Education, a traditional academic curriculum enhanced with self-development programs like the Transcendental Meditation® technique. Students are encouraged to follow a more sustainable routine of study, socializing and rest without the typical college burnout. All aspects of campus life nourish the body and mind, including organic vegetarian meals served fresh daily. Located in Fairfield, Iowa, MUM is accredited by The Higher Learning Commission and offers bachelor's, master's, and doctoral degrees in the arts, sciences, humanities, and business. Visitors Weekends are held throughout the year. For more information, call the Admissions Office at 800-369-6480 or visit http://www.mum.edu.