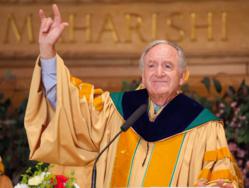 "I have nothing, as I said, but admiration for what this university has accomplished in such a short period of time. In a unique way you have put the 'higher' in higher education."
Fairfield, Iowa (PRWEB) June 01, 2013
Iowa Senator Tom Harkin received an honorary Ph.D. from Maharishi University of Management before delivering the Commencement Address at the start of M.U.M.'s Graduation exercises, which took place last Saturday, May 25, 2013, in the Maharishi Patanjali Golden Dome of Pure Knowledge.
The University's 38th Commencement graduated its largest class ever of 334 students from 54 countries, out of the 88 represented on campus. The Class of 2013 included 251 graduates and 83 undergraduates. Check this link to see a menu of videos from M.U.M.'s Commencement 2013 http://www.mum.edu/commencement-2013.
Senator Harkin was awarded a Doctor of Laws Honoris Causa degree for his extraordinary lifelong service and compassionate and progressive leadership for the state of Iowa and the United States of America. He has served in the Senate since 1985 and also served in the House of Representatives from 1975–1985. He is chairman of the Senate Committee on Health, Education, Labor and Pensions and is the seventh most senior Senator overall.
In his introduction, M.U.M. president Dr. Bevan Morris said, "We honor you for a lifetime of service to the State of Iowa and the United States of America, and your compassionate and progressive leadership. You have recognized that the quality of American life is shaped by the quality of American education."
He said that Senator Harkin has been a very good friend of the University and greatly enjoyed all his visits here. "He has given us advice and encouragement for all the University's programs—for natural methods of prevention of disease, organic agriculture, sustainable living, our Sustainable Living Center, as well as to our town, which is rising to being one of the greenest in the nation, under the leadership of Mayor Ed Malloy."
Senator Harkin began his commencement address on a humorous note. He thanked the University for this distinguished award and said, "I come before you with a measure of humility. I realize I was probably selected to be your speaker today because Oprah wasn't available." This elicited a lot of laughter as he was referring to Oprah's visit to Fairfield last year, which she aired, including a profile of the Maharishi School on the M.U.M. campus.
He then went on to say, "But I do want you to know of my highest respect and admiration that I have for this university, for what you have done, what you have become here, in Iowa, the nation, and the world, and especially for what I consider to be the best holistic approach to education and wellness in life at any university anywhere on the globe."
He was referring to Maharishi University's unique system of Consciousness-Based education and leadership role in wellness research and sustainability. M.U.M. was designated as a Center for Natural Medicine and Prevention and has received over $25 million from the NCCAM and NHLBI over the past 20 years to conduct collaborative medical research on the use of Transcendental Meditation as a complementary alternative approach to treat hypertension and cardiovascular disease in underserved minority populations, the results of which have been published in top peer-reviewed scientific journals.
The most recent study was published and publicized by the American Heart Association. Last year the AHA Journal Circulation published a long-term study showing a 48% lower risk of heart attack, stroke and death in a group already afflicted by heart disease that learned the practice of Transcendental Meditation. And this year the AHA published a paper recommending Transcendental Meditation as the only meditation practice that has been shown to lower blood pressure.
"Graduation," Harkin said, "is one of the five great milestones in life; the others being birth, marriage, death, and the day you finally pay off your student loans."
"I know exactly what you're thinking. You're wondering, 'How long is that guy gonna talk?' The answer is not long."
To answer he quoted advice from Father John Ryan, the Irish priest in his hometown when he was first asked to give a commencement address. The role of a commencement speaker is like the body at an old-fashioned Irish wake: "They need you in order to have the party but they don't expect you to say very much."
Senator Harkin said he chose a method for the day's occasion that has imparted wisdom to millions of people throughout the years—"I speak of course, not of the Ten Commandments, but of David Letterman's top ten list." But his were more like suggestions for students to choose, depending on which ones they liked.
Harkin's Top Ten Rules To Live By
10. Don't panic. You will find a job. Don't worry. "My confidence is based on one thing — because you came to the right school. I have nothing, as I said, but admiration for what this university has accomplished in such a short period of time. In a unique way you have put the 'higher' in higher education."
"You folks would agree with William Butler Yeats who said that education is not about filling up a bucket but lighting a fire. And you carry that one step further. At this university education is also about training, focusing, freeing the mind. It's about raising consciousness. Here you have been beautifully prepared intellectually and spiritually for all the challenges you will face in the world out there, so you should go forth with confidence." He encouraged students to move to smaller Iowa towns to make a contribution.
9. Believe in yourself. "You have to believe there is nothing, absolutely nothing you cannot accomplish through hard work and determination, plus the courage to step outside of your comfort zone."
8. Don't let the virtual world take the place of the real one. "Don't let Facebook be a substitute for the real faces of your family and your friends. Don't mistake virtual avatars for the real thing. What matters are the flesh and blood people in your life. Real success is about the love you give and receive. It's about the people you touch, the lives you change. It all boils down to the basics, the values and faith that our parents and grandparents instilled in us, and the wonderful discipline of the mind that you have learned and deepened at this university."
7. Don't let a few stumbles stop you dead in your tracks. He joked about his own trials and failures, especially running for the senate, congress, and president in New Hampshire. He entered the Navy, became a jet pilot and actually tested to be an astronaut but never made it into outer space, "well, unless you include being in Congress." But with all his stumbles, the real failure would have been if he had given up. "So be prepared, you're gonna suffer setbacks. You can't let that deter you. The person who never makes mistakes is the person who does nothing."
6. Have fun. He quoted W.C. Fields, who used to say: "Start your day with a smile and get it over with." But he said he was a grouch. He quoted the immortal words of his famous philosopher, Ferris Bueller, 'Life goes by pretty fast. If you don't stop and look once in a while you could miss it.' Don't miss it. Have fun, live, love, and laugh every day."
5. Don't blindly follow someone else's advice. Be a healthy skeptic, not a cynic. But don't look for all the answers in a book. Use your head. See beyond the appearances. Like in the Wizard of Oz when Dorothy looks behind the curtain. And don't sweat the small stuff. Don't spend a lot of your time wondering why so many Iowa towns are named after water towers. Don't automatically believe everything you read. In fact, I'll go even further. Don't believe everything you think you know. As Will Rogers once said, 'It isn't what we don't know that gives us trouble, it's what we know that ain't so.'"
4. Express appreciation, and don't hold back. He told each graduate to go up to that professor that made a difference and to thank them. He told them to thank their parents and asked them to turn to them and give them a round of applause.
3. Keep your priorities straight. He talked about the importance of taking time from work for the important things in life. "When all is said and done, the people in your life—your family, your faith, the friendships you form, are what give shape and substance to your life. Never, ever, sacrifice that."
2. If you want your dreams to come true, don't sleep 'til noon. He urged graduates to keep challenging themselves and to think about their time at the University; how they accomplished things they never thought they could. And he advised them to not take the easy road. "In today's world it's far too easy to be cynical. It's easy to be disengaged. It's easy to withdraw within our selves. It's easy not to care. But I say to you, that easy road is a dead end. The real value of life and work isn't measured in dollars or the wealth you accumulate. It's measured in the lives you change, the people you help, the work you do to make this world a better place for all. It's often been said, 'We make a living by what we get, but we make a life by what we give.'"
1. Be part of something bigger than yourself. "Most of the people who I have known who have been both successful and happy are those who know themselves, who they are. This university has taught you to have the mental strength to transcend the vicissitudes of life, to know yourself. They have prepared you well for that outward journey. And you've all proven that you have the talent and the energy to accomplish big things."
He reminded graduates how fortunate they are to have achieved getting a college education, and urged them to give back, to make a difference, to volunteer in their communities, and their government. "We live in a democracy, and it's not a spectator sport. Our great democracy has to be renewed and replenished with each generation…. The most important elective office in America is membership on a school board. … I can tell you there's a hunger in this country for clean, decent, honest new political leadership at every level of government."
Senator Harkin closed by quoting Mark Twain: "Let us endeavor so to live that when it comes time to die even the undertaker will be sorry."
"Good luck, best wishes, and enjoy your journey."
After thunderous applause Harkin came back to the mike to teach the enthusiastic crowd something. He told them that his brother was deaf, that he had learned sign language when he was growing up. He said there were a lot of wonderful signs in sign language and then demonstrated one of them. He raised his right hand and said it was made up of basically three letters. Lifting his pinky he said, "It's 'I'," then his thumb and index finger, "the letter 'l'," his thumb and pinky, "and the letter 'y'. And when you form those three, 'I', 'l' and 'y' in one thing, it spells out, in deaf language, 'I love you.'" He smiled and said, "Thank you." And the crowd joyously returned the sign and the loving sentiment.
Senator Harkin was interviewed by a TV reporter afterwards and commented on the diversity on campus. "I've been to a lot of commencements, and I don't think I've ever been on a platform with as many different nations represented as I have here at Maharishi."
Kelly Mae Heroux, valedictorian of MUM's class of 2013, gave a moving speech and highlighted a permaculture principle she learned in her education at M.U.M.—The problem is the solution. "In the same way I've realized that love is the deepest driving force behind all ecological processes in the world whether it seems good or bad. Within each challenge we will face in our lives, there is always a solution embedded within. And when you shift your attention from grievance and frustration to sincere wonder and gratitude for the experience, the gate of your heart will open for both the solution and love."
Kelly quoted M.U.M. founder Maharishi Mahesh Yogi saying 'order is present everywhere' and urged her friends and fellow graduates to remember, "that no matter where you are or how much darkness there seems to be in our world, love is the force behind this pervasive order. It is within you to embrace. Trust the process and focus on the positive. What you put your attention on really does grow."
Salutatorian Melodía Morales, joined by her twin sister Coral, presented the class gift.
The University of Iowa Faculty Brass Quintet beautifully played Sir Edgar Elgar's processional march "Pomp and Circumstance."
Outstanding graduates and their special achievements were honored at the Awards Ceremony, the evening before Commencement.
Click here to see the full Commencement 2013 at Maharishi University.
Founded in 1971, Maharishi University of Management (MUM) offers Consciousness-Based℠ Education, a traditional academic curriculum enhanced with self-development programs like the Transcendental Meditation® technique. Students are encouraged to follow a more sustainable routine of study, socializing and rest without the typical college burnout. All aspects of campus life nourish the body and mind, including organic vegetarian meals served fresh daily. Located in Fairfield, Iowa, MUM is accredited by The Higher Learning Commission and offers bachelor's, master's, and doctoral degrees in the arts, sciences, humanities, and business. Visitors Weekends are held throughout the year. For more information, call the Admissions Office at 800-369-6480 or visit http://www.mum.edu.