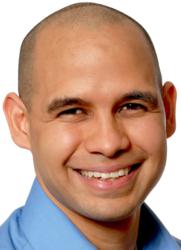 "I want to encourage others to tackle their own fears as I've done tackling mine about public speaking," said Alex. "I'm fascinated by the resilience of the mind and body, and the lengths humans are able to go to."
Fairfield, Iowa (PRWEB) June 06, 2013
Maharishi University of Management graduate, Alex Cequea, Editor in Chief of iPhone Life magazine and professional speaker, will attempt to break the Guinness World Record for the longest speech marathon. The weekend event takes place at the Fairfield Arts and Convention Center in Fairfield, Iowa and will be live-streamed by MUMTV. The entire event is scheduled to last 36.5 hours, from 11 a.m. on Saturday, June 8th, to 11:30 p.m. Sunday, June 9th CST. The current record stands at 33 hours and 46 minutes.
Breaking a world record for the world's longest speech is an enormous feat in itself. But even more so for someone who was once terrified of public speaking. "I want to encourage others to tackle their own fears as I've done tackling mine about public speaking," said Alex. "I'm fascinated by the resilience of the mind and body, and the lengths humans are able to go to."
For visual aid support Alex will be using Prezi, an online-based zooming presentation software that is a popular choice among seasoned presenters in venues such as TED. Prezi is a sponsor of the event and will also help to promote it.
Other sponsors include Viva Vitamins, Miami Public Speakers, and Speaker Sponsor, an innovative service that matches speakers with sponsors. Also, in case Alex needs it, Red Bull kindly offered to send a whole lot of Red Bull.
"We support Alex and his brave attempt to break the world record," says Speaker Sponsor CEO and fellow speaker Julie Austin. "We'll be rooting for him all the way."
Breaking a Guinness World Record is #3 on Alex's bucket list of "things to do before I die." The speech will cover all of Alex's life, including his family's incredible journey from poverty in Venezuela to realizing the American Dream. The event fittingly takes place on Alex's birthday.
"We are delighted to support Alex's World Record attempt," says Paul Stokstad, Marketing Director for Maharishi University of Management. "Alex has been a championship level tennis player, a great MUM student (class of 2008), and now a successful infopreneur, and so we think he'll have a lot of good things to talk about."
The event will be streamed live via state-of-the-art LISCO optical fiber on http://www.mum.edu/go-alex, http://new.livestream.com/mum/go-alex, and Alex's blog and Facebook sites, http://www.publicspeakingguy.com and http://www.facebook.com/publicspeakingguy. Viewers will be able to ask questions via Alex's Twitter feed (@alexcequea). He will be allowed to answer them during several short Q&As sprinkled throughout the speech marathon presentation.
Alex Cequea is available for interviews and can be reached at 319-541-0205 or alex(at)publicspeakingguy(dot)com.
Founded in 1971, Maharishi University of Management (MUM) offers Consciousness-Based℠ Education, a traditional academic curriculum enhanced with self-development programs like the Transcendental Meditation® technique. Students are encouraged to follow a more sustainable routine of study, socializing and rest without the typical college burnout. All aspects of campus life nourish the body and mind, including organic vegetarian meals served fresh daily. Located in Fairfield, Iowa, MUM is accredited by The Higher Learning Commission and offers bachelor's, master's, and doctoral degrees in the arts, sciences, humanities, and business. Visitors Weekends are held throughout the year. For more information, call the Admissions Office at 800-369-6480 or visit http://www.mum.edu.