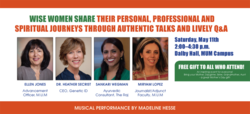 From women sitting on the floors of temples in Asia, to women gathered around the fire in villages in Africa, to women's networking lunches in corporate America, this gathering continues this ageless tradition.
Fairfield, Iowa (PRWEB) May 11, 2013
A Women's Wisdom Weekend, sponsored by the Women's Institute at Maharishi University of Management, and Wise Women Lead, an M.U.M. student club, takes place this Mother's Day Weekend at Dalby Hall in the Argiro Student Center. MUMTV will webcast live Saturday afternoon's discussion of what it means to be a leader as a woman in the world.
This new collaboration is a continuation of the timeless tradition of women of all ages getting together—an inter-generational dialogue where elders pass on their knowledge to the youth.
"From women sitting on the floors of temples in Asia, to women gathered around the fire in villages in Africa, to women's networking lunches in corporate America," says M.U.M. Women's Institute director Jessica Keen, "this gathering continues this ageless tradition."
"While the MUM Women's Institute is serving as a mother organization to the student club, Wise Women Lead, everyone in our club is a leader," says Tabitha Sedgwick, student club president and event coordinator. "This whole event has been created by students who have contributed their unique organizational talents. This is how we learn about leadership—by taking responsibility and initiative."
Launching the event Friday night will be, Get Real! Wise Women Speak, an award-winning documentary featuring extraordinary women and the inner fire, which propels them to use their wisdom and experience to change the world. Some of the women featured in the film are Jane Fonda, Della Reese, Marianne Williamson, a poet, oceanographer, magazine editor, Buddhist nun, Nobel Laureate, Indigenous elders, and others. Following the film will be a Q & A with filmmaker, Joni Steele Kimberlin.
The Saturday afternoon session from 2-4:30 p.m., CST, will be webcast live. Each speaker will make a short presentation, followed by a lively Q & A from students and attendees. Speakers will be: Ellen Jones, Advancement Officer at M.U.M.; Sankari Wegman, Ayurvedic Consultant, PhD candidate, Maharishi School board member, and mother of two children; Dr. Heather Secrist, CEO, Genetic ID, who will speak on defining leadership for women; and Miryam Lopez, M.U.M, adjunct faculty, former journalist and publisher in Spain, Latin America and the United States, and assistant to the President of the Dominican Republic, in Government and an internationally prestigious non-profit organization.
Leslee Goldstein, PhD Candidate at Maharishi University of Management, will present a slide show and report of her dissertation research: The Transcendental Meditation Technique and Empowerment From Within in the Lives of Mothers.
The suggested donation is $5 (free to students) and includes a free gift. Men are welcome. All donations go toward United Women's Platform for Empowerment and Development in Uganda, who have recently learned the Transcendental Meditation technique (See http://uwoped.wordpress.com).
Both Tabitha and Jessica feel there is great value in listening to women. "Women nurture the whole of creation, and we know that in so many cases, our sustainability requires us to listen to the knowledge of women."
Founded in 1971, Maharishi University of Management (MUM) offers Consciousness-Based℠ Education, a traditional academic curriculum enhanced with self-development programs like the Transcendental Meditation® technique. Students are encouraged to follow a more sustainable routine of study, socializing and rest without the typical college burnout. All aspects of campus life nourish the body and mind, including organic vegetarian meals served fresh daily. Located in Fairfield, Iowa, MUM is accredited by The Higher Learning Commission and offers bachelor's, master's, and doctoral degrees in the arts, sciences, humanities, and business. Visitors Weekends are held throughout the year. For more information, call the Admissions Office at 800-369-6480 or visit http://www.mum.edu.