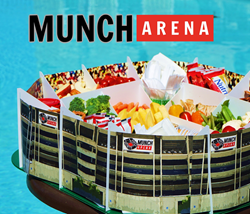 The World's First Easy to Assemble Snack Stadium
San Diego, California (PRWEB) August 17, 2015
Entrepreneurs decide to take matters into their own hands, and build a new stadium in San Diego. These two San Diego locals need the public's help to build the MunchArena.
Their goal is simple: Bring people together around a miniature snack filled stadium.
San Diego residents Luis Gonzalez(30) and Francisco Heredia(30) designed what they are calling The MunchArena, The world's first easy to assemble snack stadium.
MunchArena™ was designed with the idea of having a stadium shaped snack tray that is able to hold chips, dips, snacking supplies or anything else customers desire. The product assembles and disassembles easily using patented folding techniques, while still remaining flat for easy storage and low cost shipping. http://www.MunchArena.com
"We used to build snack stadiums for all our family gatherings. Everybody that came over loved them and couldn't stop talking about them. The problem was that they would take hours to build, they were very expensive, and as soon as we would start eating from them, they would fall apart and make a mess. We started looking for an easier solution, but nothing existed. So we decided to take matters into our own hands, and that's how The MunchArena™ was born," says Francisco.
The MunchArena™ was designed with simplicity in mind. It is made up of three main areas: base, inner structures, and outer perimeter. All of the materials are food safe with the exterior walls made of recyclable material, and the interior made of plastic. "You basically quickly assemble the stadium pieces, fill it with your favorite snacks, and instantly have a great looking center piece for your party," says Luis.
The two friends just launched their project via Kickstarter, the popular crowd funding website.
https://www.kickstarter.com/projects/1250057853/muncharena-the-worlds-first-easy-to-assemble-snack
With a pledge of $25, a MunchArena can be built in America. They are currently seeking at least $7,500 to get their project successfully funded, and plan on shipping the first MunchArenas as early as October to the first backers. Follow the guys progress on Kickstarter, Twitter (@muncharena) and on Facebook.
With all the uncertainty about stadiums being built in San Diego, it's nice to know fans can count on the MunchArena to bring friends and family together.
##
For more information about the MunchArena, or to schedule an interview with Francisco or Luis please, email info(at)MunchArena(dot)com or Tweet them @muncharena.
Luis Gonzalez studied Applied Design (B.A.) at San Diego State University and currently works for one of the largest wireless telecommunications providers in the United States. Francisco Heredia studied Psychology (B.A.) at San Diego State University and has previously started his own Juice bar business in San Diego, California. He currently works for one of the largest wireless telecommunications providers in the United States.