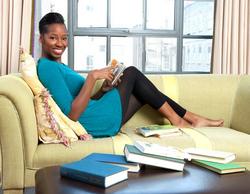 (PRWeb UK) May 14, 2010
"Superstar" mum Jamelia is calling on parents to put pen to paper and create their very own children's story, as Munch Bunch launches the "Munch Time" storytelling competition.
As a Munch Bunch survey reveals that the best children's bedtime story of all time is The Very Hungry Caterpillar, the "Munch Time" storytelling campaign urges families to enjoy some storytelling time together. What is more, 11 creative parents judged to have submitted the most fantastic fables to the competition will win the chance to see their story turned into a book as well as meet Jamelia and receive a cash prize.
Jamelia explains how much she enjoys storytime with her children, "The Munch Time storytelling campaign is a great way to encourage mums and dads to spend time with their kids and share stories. I know my daughters love being told stories; they're always thrilled by something I've made up for them, and it really seems to help with their reading, writing and creativity".
The Munch Bunch survey further reveals that although three quarters of parents read to their children, one in 10 say they have not done so for at least six months. However, eight in 10 believe reading books will help them become a well-rounded individual. Parents blamed household chores (35%), cooking dinner (31%) and long office hours (21%) for getting in the way of spending quality time with their children.
Dr Richard Woolfson, Child Psychologist, comments on the survey results, "As the survey shows, modern life often means families feel they do not have time to indulge in storytelling but it can be so rewarding. It inspires children's imaginations while strengthening their attention span and creativity. For parents, it is the perfect way to spend precious quality time with their kids.
The "Munch Time" storytelling competition closes on 25th June 2010. To enter the competition and find out more about Munch Time, visit http://www.munchbunch.co.uk
###