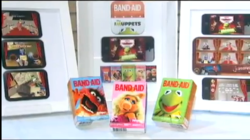 (PRWEB) August 07, 2012
BAND-AID has teamed with The Muppets to bring children a one of a kind application that uses augmented reality technology to provide parents with the unique ability to entertain their children during the traumatic moment of getting hurt.
Available for iOS devices, including the iPhone 4/s and iPad2, Magic Vision was created to distract children moments after an injury. The application allows children to take pictures of BAND-AID® Brand Adhesive Bandages strips and boxes and transports them through a digital portal into three distinct adventures and performances from the Muppets.
The three adventures and performances include Kermit the Frog, Miss Piggy, and Gonzo. Magic Vision also lets you snap photos of Kermit, Miss Piggy and Gonzo from any angle. Even if you don't have a BAND-AID® Brand Adhesive Bandage featuring The Muppets, the app features "Take a Photo of Kermit," which lets anyone take real-world pictures of the Muppets' revered leader.
The free app is now available for download from the iTunes marketplace.
NewsWatch is a weekly 30-minute consumer oriented television show that airs nationwide. NewsWatch regularly feature top celebrities, health tips, technology products, medical breakthroughs and entertainment news on the show. The show airs in 180 markets nationwide as well as all of the top 20 broadcast markets in the country, and is the preferred choice for Satellite Media Tour and Video News Release Distribution. For more information, head to newswatchtv.com