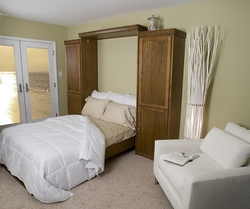 We are very excited about this partnership with Add-A-Bed. Mary brings a wealth of knowledge about home furnishings and space planning, but most importantly she is very enthusiastic about helping her clients make the most of their space
Newburgh, IN (PRWEB) July 22, 2009
Add-A-Bed, LLC, a local retailer based in historic downtown Newburgh, IN, is partnering with The Bedder Way Co., one of the nations leading Murphy bed manufacturers, to offer a line of furniture quality, real wood Murphy beds and accessories.
Finding ways to make use of any extra space in the home has become a high priority for homeowners, renters, and interior designers alike. Add-A-Bed founder Mary Mitchell is utilizing her expertise in the fine furniture industry to bring a creative solution to home space concerns. "Dual purpose, functional furniture doesn't have to be cheap or bland. This line of Murphy beds from The Bedder Way Co. blends the function of a disappearing bed with the beauty of fine furniture. The ability to have a single room in your home that can function as a guest room and your home office, hobby room, or exercise room is very unique."
This new line of Murphy beds (also known as wall beds, hide-away beds, or disappearing beds) and accessories blends style with function. Bedder Way Co. products have been featured on the HGTV® show "Find Your Style" and more recently on the hit ABC® show "Extreme Makeover: Home Edition".
"We are very excited about this partnership with Add-A-Bed. Mary brings a wealth of knowledge about home furnishings and space planning, but most importantly she is very enthusiastic about helping her clients make the most of their space," says Chris Fahy, National Sales Director for The Bedder Way Co. "Now, customers in the Tri-State area will have an expert to call and a place to see, touch, and operate our products."
About Add-A-Bed, LLC
Founded in 2008 by Mary Mitchell and located in historic downtown Newburgh, IN, Add-A-Bed, LLC was started to fill an obvious need for creative home furnishings that save space. As a one time owner of Lea Matthews Furniture and Interiors, Mary knows the fine furniture business well. Having sold Murphy beds in the past, Mary is able to seamlessly blend functionality with design.
About The Bedder Way Co.
Since 2000, The Bedder Way Co. has been building real wood, handcrafted Murphy beds and accessories. With fifteen individual Murphy bed designs, eleven unique stain colors, and seven side cabinet options, every taste can be satisfied. All pieces are made to order and all designs are available in oak or maple wood along with several decorative hardware choices for each design. A complete line of coordinating home office cabinetry is also offered.
###