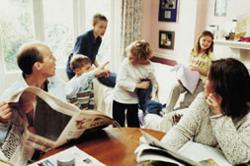 What sets us apart from our competitors is that we understand that tutoring has to be conformed to the lifestyle of the client, which does not always function around the business hours of learning centers.
New York, New York (PRWEB) December 18, 2012
We live in a society where our children's schedules are almost as busy ours. If they're not solving algebraic equations in math class, they're getting ready for baseball practice, or maybe even doing a Google how to set up their science project. Gennet Stephenson, the working mother of two school-aged children states "My 9 year-old, comes home with over an hour's worth of homework every evening. After he finishes his Karate lessons, or maybe even his soccer practice, he's exhausted." She continues, "He certainly needs help in math, and it becomes extremely difficult to reach him after he's finished practicing sports. I certainly needed outside help to help him raise his grades, but just didn't have the time to shuffle him into a learning center, that's when we began to utilize the services of Murray Test Prep."
Murray Test Prep is a personalized tutoring service that offers the option of in-home sessions, providing a convenience to parents who oftentimes have to transport their children to and from learning centers. We provide top tier lessons in both individualized courses as well as standardized exams at a reasonable cost. We specialize in science, math and writing for students from grades Kindergarten through college, and even up to the graduate level.
Dr. Onika Murray, the Founder, is a Faculty member at New York University, teaching Molecular Cell Biology. She has completed degrees in various areas (Comparative literature, Cancer biology, and Business Administration) and has discovered that there is a common link for success that can be applied across many disciplines. Dr. Murray states "What sets us apart from our competitors is that we understand that tutoring has to be conformed to the lifestyle of the client, which does not always function around the business hours of learning centers." She continues, "Our prices are much more affordable than many of our competitors, making our services accessible to many families in different income brackets."
"We are very pleased with the service we are receiving from Murray Test Prep," states Gennet Stephenson, "I have seen my son's math grades go from C's to A's in less than 2 months, I will certainly continue to use retain their services."
In addition to individualized courses we also prepare students for major standardized exams, such as the SAT, GRE, MCAT etc. We have not only worked with parents and professional students, but also high schools and major universities. In addition, we offer consulting services for college and graduate school admission as well as financing options. Looking for great tutors, but don't want to break the bank? Contact Murray Test Prep today at http://www.murraytestprep.com