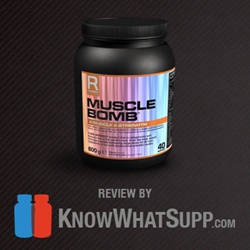 Muscle Bomb... a phenomenal blend of ingredients!
(PRWEB UK) 30 June 2014
Muscle Bomb is a very exciting new pre-workout product from Reflex Nutrition. After seeing the nutritional breakdown, we were very keen to try Muscle Bomb. It contains some of the most important pre-workout supplements at doses that frankly put other similar products to shame. Many brands hide doses under proprietary blends, but we were delighted to see that Reflex have remained open and disclosed everything!
Firstly, we come to the taste. Considering the natural bad taste of some of the ingredients used, Muscle Bomb actually has a relatively good flavour. There is an inherently bitter aftertaste and frothing, which comes from the BCAAs, however, the option of a cooling Black Cherry sufficiently masks this, making for an energising drink. Other flavour options include Grapefruit and Fruit Punch.
Reflex Nutrition have used a phenomenal blend of ingredients: BCAAs 7,000mg, citrulline malate 8,000mg, beta-alanine 3,200mg, l-carnitine tartrate 2,000mg, betaine 2,500mg. These doses are the quantities that have actually been researched and studied, meaning you can expect to experience their full benefits! Lots of brands find ingredients that have produced positive scientific results, but then only use a fraction of the appropriate dose. This allows them to boast the quality ingredients on the label but then spend less on the actual product, making an inferior pre-workout and a higher profit margin. It is fantastic to see that Muscle Bomb has avoided this, using doses that we have never seen be used in other similar products. For example, citrulline malate has shown fantastic results in a number of studies. It removes ammonia from muscle cells and helps you reabsorb lactate, which leads to greater muscular endurance and performance. These results have been shown in studies where 6-8g is used, and so, Reflex Nutrition have used 8g in each serving! The same is apparent with Beta-alanine, which prevents muscle fatigue, allowing you to train harder and for longer. Beta-alanine has been shown to work at doses around 3.2g, so Reflex Nutrition have used exactly that. This pattern is repeated with all ingredients in Muscle Bomb and is what makes it such a fantastic product.
To read a full breakdown of every ingredient in Muscle Bomb, where Know What Supp go in great detail with the product.
You can now find out how Muscle Bomb compares to other pre-workout products by using Know What Supp – the world's first supplement comparison site. Compare here Reflex Nutrition products!