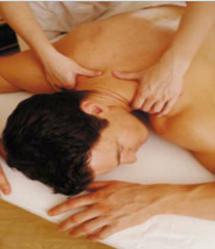 Houston, TX (PRWEB) August 18, 2012
Muscle massage and muscle recovery link as well the benefits of a muscle massage were recently discovered by researchers from Ontario and California. They found clear molecular signs that overworked muscle cells respond to being manipulated by massage. Scientists report that the satisfaction one gets from a muscle massage seems to have tangible roots. Strenuous exercise damages muscle tissue, followed by rebuilding or disposal of damaged muscle cells.
While inflammation routinely shows up immediately after such hard exercise, lingering inflammation hinders the repair process. Biopsies taken immediately after a muscle massage showed that the massaged muscle tissue had reduced levels of inflammatory compounds.
Though it remains unclear whether these biological changes account for all of the pain relief offered by a muscle massage, it is a known fact that lowering inflammation can reduce pain. The muscle recovery process involves the release of pain-alleviating endorphins and other neurotransmitters that is stimulated by a massage.
Though massage therapy isn't exactly a new discovery in modern medicine, researchers have found that the body is able to heal itself a lot faster as the muscle cells respond well to massage. When done right, muscle massage can reduce inflammation and paint in order to boost the healing time. A new post at Quickmusclebuildingtips.com offers more insight into how massaging helps sore muscles and aids the muscle recovery process.
To read the entire post and to watch a video about relieving pain from a pulled muscle, visit http://quickmusclebuildingtips.com/get-a-massage-and-speed-up-healing-of-the-muscle
Stan's QuickMuscleBuildingTips.com has the full scoop on how to gain a pound of muscle in a week. The site also has information on the best muscle building exercises, routines, tips, and products. To keep up with the latest one should like their Facebook page at http://www.facebook.com/QuickMuscleBuildingTips.
For those who are looking to build more muscle and to lean down, Stan has put together a special report called "Gain 10lbs of Muscle in 30 Days." To get access one can go here: http://quickmusclebuildingtips.com/get-free-report