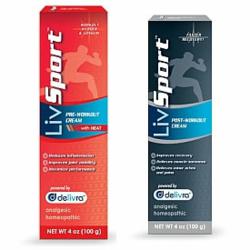 LivSport creams extend workout and speed muscle and tissue recovery.
Burlington, Ontario (PRWEB) December 11, 2012
Delivra™, the Canadian-based manufacturer and market leader in transdermal delivery technology, announces the launch of LivSport topical Pre-Workout and Post-Workout creams at GNC stores throughout the U.S. and Canada. Delivra's™ transdermal creams are made from natural compounds that mimic skin, allowing for quicker and deeper penetration of natural pain relief ingredients.
"LivSport now joins our flagship products LivRelief Pain and LivRelief Nerve Pain Creams (Facebook Link) in GNC stores nationwide, providing excellent accessibility throughout the U.S. and Canada," stated Delivra's™ Chief Scientific Officer, Dr. Joseph Gabriele, Ph.D. "We are very excited to bring Delivra's exciting and unique answer to workout supplementation to our clients."
LivSport's Pre-Workout Topical Cream and Post-Workout Topical Cream both offer revolutionary new options for workout recovery supplementation. In Canada, LivSport created the first-ever topical Creatine and L-Glutamine creams and has created sport formulas now available for the U.S. market. Both the Pre-Workout and Post-Workout creams are used and endorsed by athletes in every major sport as well as sports physicians, trainers and coaches.
LivSport Pre-Workout Topical Cream ( http://www.facebook.com/LivSport )
Using Delivra's slow release delivery system, LivSport Pre-Workout provides muscles with sustained energy and includes pomegranate extracts to reduce muscle burning. LivSport Pre-Workout is an effective way to maximize performance in the gym or on the field.
LivSport Post-Workout Topical Cream
Slow release technology helps repair torn tissue while strengthening and rehydrating muscles following strenuous exercise. LivSport Post-Workout Topical Cream is used and recommended by a top trainer and strength coach in the NCAA.
LivSport, as well as LivRelief Pain and LivRelief Nerve Pain creams, all utilize patented Delivra™ transdermal cream to deliver active ingredients directly to the pain. Delivra™ is unique as a delivery system in that it contains organic compounds free of smelly menthol, synthetic parabens, propylene, glycol or other harsh chemicals. LivSport and LivRelief creams penetrate six times deeper and more efficiently than the leading topical pain relief product.
About Delivra™
Headed by Dr. Joseph Gabriele, Delivra Inc. is comprised of a team of innovative scientists and medical professionals who have come together to develop natural, safe and effective medications, using a revolutionary new delivery system, Delivra™. Delivra™ is a patented, proprietary organic compound discovered by Dr. Gabriele that harnesses the body's own processes to ensure a greater depth of penetration in transporting healing substances. Delivra™ can be used to safely and effectively deliver a wide range of medications directly through the skin.
Media Contact
Ameen Ferris
Delivra, Inc
905-639-7878