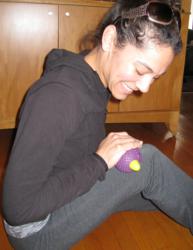 As a 55 year old physical therapist, with many aches and pains, I find myself reaching for my Muscle Angel® whenever I can take a quick break between patients.
Brookline, Massachusetts (Vocus/PRWEB) March 03, 2011
Susan Z. Robins, president and founder of Muscle Angels®, a Norbis Innovations Company, LLC, is proud to bring to market the newly-patented Muscle Angels® massager. Susan Z. Robins knows all about muscle pain. As a part-time cellist and full-time, high-octane business executive, she had long coped with neck pain, stress-induced tension headaches, and tendonitis from computer over-use in both hands.
She tried everything to relieve her muscle pain—foam rollers, tennis balls stuffed into a sock, wooden spoon handles, and every form of massage ball and massage "stick" on the market—to no avail.
Unable to find a solution – or, for that matter, a new job—Susan decided to make a mid-life career shift and bet her life savings on a new venture: creating a product that would not only help her, but millions of other people who suffer from chronic muscle pain and tension headaches (and, after all, who doesn't?).
Susan explains: "I was desperate to find something to help my hand pain. I pieced together a makeshift massager from rubber dog toys (yes, it's true) and brought it to the New England Inventors Association Forum at MIT to get advice about how to best to tackle the engineering and manufacturing challenges." From there, Susan held focus groups with physicians, musicians, and athletes, and worked with a series of product engineers and manufacturers to tweak and refine what soon came to be called the Muscle Angels® massager.
Doctors, physical and occupational therapists, massage therapists, elite athletes, and professional musicians, among many others, now laud the Muscle Angels® elegant simplicity and versatility.
Physical Therapist Anne Ingrid offers this testimonial: "As a 55 year old physical therapist, with many aches and pains, I find myself reaching for my Muscle Angel® whenever I can take a quick break between patients."
And Keith Conant, principal viola of the Chicago Lyric Opera Orchestra, says: "I love my Muscle Angel®. I am amazed at how well it works on my neck and shoulders -- which are always sore from long orchestra rehearsals. Plus, it's great to be able to reduce my muscle pain without the need to rely on someone else. For a quick fix during intermission, I just throw the Muscle Angel® into one end of the red Stability Sleeve, sling it over my shoulder, and lean against a wall (my body weight adjusts the intensity so it's always "just right")!"
Elite marathon runners applaud the product's ability to loosen tight muscles and reduce muscle spasms. "I find it especially effective on my piriformis and hamstring muscles, however, if you are creative, you'll find that you can use the Muscle Angel® on every part of your body," says, Jacqueline Gareau, winner Boston Marathon (1980), massage therapist and lecturer.
In addition to the many professional accolades, Muscle Angels® are being recommended and sold by medical professionals across the country, and are also available at Amazon.com, Canyon Ranch Spa and Resort and the Kripalu Center for Yoga and Health, as well as many other retailers. But, says Susan, "the greatest endorsements of all are the numerous calls and emails I receive each week from satisfied customers who are excited to, once again, be able to do things they love best." Muscle Angels® is achieving its mission—helping people "Get Back to Living!®"
About Muscle Angels®.
http://www.muscleangelmassagers.com
Muscle Angels®, a Norbis Innovations Company, was formed in July 2009 with the VISION of helping improve the quality of life for people (and now, pets) who suffer from muscle pain and tension.
Muscle Angels® patented massagers are both preventative and therapeutic. Results are achieved by combining the benefits of Myofascial Trigger Point, Acupressure, and Deep Tissue Massage—in an all-in-one, easy-to-use, product. Muscle Angels® are the only massagers of their type that offer a hands-free option for people with bilateral hand and arm pain, as well as an add-on product that enables users to access hard-to-reach muscles—without assistance.
Muscle Angels® massagers are sold in physical and massage therapy practices, running stores (including Fleet Feet), resorts and spas (including Canyon Ranch), and through online distributors and retailers including Alimed, Inc, and Amazon.com. See website for more testimonials, and to view the short instructional videos.
# # #