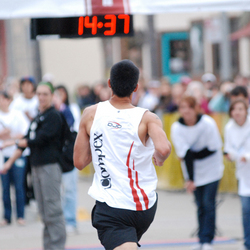 San Diego, CA (PRWEB) May 5, 2010
Between the Oceanside Ironman 70.3, Redlands Bicycle Classic, Tour of Thailand and the Carlsbad 5000, Compex®-sponsored professional athletes are on a roll. Enjoying many recent victories, many Compex professional athletes are touting the many benefits of Neuromuscular Electrical Stimulation (NMES) technology.
Michellie Jones, a Professional Triathlete and Olympic Silver Medalist, who recently took second place in the women over 40 division at the Carlsbad 5000, indicated that NMES has been an integral part of her training regimen for several years. "I've stayed at the top of my sport due to determined training and recovery. For many years, the most important tool in my arsenal has been my Compex Muscle Stimulator. Regular use of the muscle stimulator's specialized programs has significantly improved my performance and my ability to recover from rigorous training," said Jones.
Electrostimulation therapy using muscle building electrical stimulation has been popular among European athletes for over two decades, and muscle stimulators are quickly becoming more widely accepted in the U.S. among athletes, professional sports teams and athletic training coaches.
DJO, the worldwide leader in the research, design and manufacturing of Neuromuscular Electrical Stimulation (NMES) technology through its Compex brand of products, is the first U.S. company to offer consumers a FDA-cleared, over-the-counter, portable muscle stimulator which offers muscle building electrical stimulation for enhanced sports performance and improved physical fitness.
According to Greg Houlgate, Director of Sales and Marketing for Compex Muscle Stimulators, Compex muscle stimulators enable users to exercise more muscle fibers in less time by reproducing the body's natural process of voluntary muscular contractions with high-intensity "optimal" muscle building electrical stimulation. Numerous clinical studies conducted over 22 years have proven that when the Compex muscle stimulator is applied to the motor nerve, it provokes a deeper and more complete muscle contraction than what can be attained through standard voluntary training or activity.
"I recommend Compex to any athlete that wants to gain muscle strength, improve their physical condition, recover more quickly and realize their full potential," said Christian Cushing-Murray, 42, who recently won the Carlsbad 5000 Masters men race with an impressive 14:40 finish.
The Compex muscle stimulator features up to nine specific stimulation programs that use muscle building electrical stimulation to target specific muscle groups and enable athletes to maximize muscle performance specifically related to their particular sport. For instance, a cyclist can improve endurance, a triathlete can build muscle and increase strength, and the volleyball player can gain explosive power to jump higher. After training with NMES, athletes can expect progression in their overall strength, power and speed, as well as a quicker muscle recovery after training. In addition to enhanced muscle performance, athletes can also expect to experience improvements in their circulation and faster reduction in lactic acid blood flow.
"Compex has become a part of my daily regimen for recovery after every training session. It's small and compact enough to take with me while traveling," said Pua Sawicki, a 2010 Top US Rider on the USA Pro Cycling Cross Country Tour.
All Compex muscle stimulator models include 5 levels of muscle building electrical stimulation progressions that will keep athletes challenged with every training session. Each muscle stimulator also includes an Active Recovery program which is clinically proven to increase blood flow, reduce lactic acid and promote muscle relaxation.
"After a great race at the Redland Cycling Tour, and my first win of the year, I jumped on a plane to the Tour of Thailand. Using the Compex muscle stimulator on the flight really helped with recovery and circulation to my lower legs during the long flight. We started the race the next day and I felt great and got a podium result on the first day!" said Will Routley, a member of the Jelly Belly Cycling Team.
For more information visit shopcompex.com.
About DJO Incorporated
DJO is a leading global developer, manufacturer and distributor of high-quality medical devices that provide solutions for musculoskeletal health, vascular health and pain management. The Company's products address the continuum of patient care from injury prevention to rehabilitation after surgery, injury or from degenerative disease. Our products are used by orthopedic specialists, spine surgeons, primary care physicians, pain management specialists, physical therapists, podiatrists, chiropractors, athletic trainers and other healthcare professionals. In addition, many of the Company's medical devices and related accessories are used by athletes and patients for injury prevention and at-home physical therapy treatment. The Company's product lines include rigid and soft orthopedic bracing, hot and cold therapy, bone growth stimulators, vascular systems, electrical muscle stimulators used for pain management and muscle building electrical stimulation, and physical therapy products. The Company's surgical division offers a comprehensive suite of reconstructive joint products for the hip, knee and shoulder. DJO's products are marketed under the brands Aircast®, DonJoy®, ProCare®, CMF™, Empi®, Saunders®, Chattanooga, DJO Surgical, Compex®, Cefar®-Compex® and Ormed®. For additional information, please visit http://www.DJOglobal.com.
###