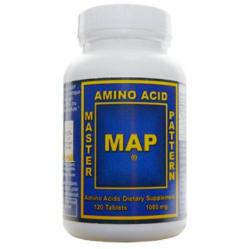 Costa Mesa, CA (PRWEB) September 11, 2012
Master Amino Acid Pattern (MAP)- Originally formulated for baby development the MAP product has evolved through scientific research in the last 2 decades. Researchers have discovered a unique formula of amino acids that contains zero toxicity, fillers, binders, excipients, or other poisons making their product the best on the market today. In clinical trials the product has proven to dramatically increase muscle strength and endurance, ligament and bones, shorten recovery time, and is ideal for weight loss.
The $58 billion dollar nutritional industry hosts many protein supplements, but none like MAP. The manufacturing of MAP undergoes a specific patented process to ensure its extremely high purity. Additionally the ingredients are of the highest quality to ensure rapid absorption and delivery to the cells.
On a physiological level, MAP is the only protein/amino acid supplement that has a 99% absorption and assimilation rate. By comparison Meats, fish, and poultry have a 30% absoprtion and 70% waste. Whey proteins and soy proteins have an absorption rate of about 16-18% and 82-84% goes to waste. MAP's ability to be used up by our body also explains why the product is close to being zero calories. This is esspecially important for a balanced and healthy weight loss program.
For more information go to
http://totalhealthmasteryusa.com/foryourbody/musclebuildingsupplement
For more information about Total Health Mastery go to
http://totalhealthmasteryusa.com/