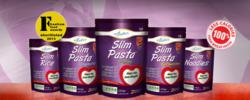 We're hoping these groups will love Eat Water products as much as we do, and reach their goals a little faster.
Peterborough (PRWEB UK) 29 April 2013
Many dieters take issue with carbohydrates, and with fair reason. As part of a nutritionally sound diet they release energy into the body over time, while remaining filling. Yet when losing weight carbohydrates remain fairly high in caloric value, while diabetics and coeliacs can't handle the heightened blood sugars carbs entail.
Considering this, Muscle Finesse are proud to announce the addition of an exciting new product range, targeted at helping consumers lose weight more successfully. The new product line is produced by 'Eat Water', and covers a range of low calorie pasta dishes, noodles and rice.
The new products are noted for possessing zero digestible calories (though a 100g portion theoretically contains 7.7kcal), with zero carbohydrates, sugars, and saturated fats. Despite having next to no nutritional content, the Japanese vegetable fibre Moyu, used to create the food, expands in the stomach to provide a sense of fullness.
This unique food source allows consumers on a strict diet with calorie and carb control to still feel full, despite many starchy foods being cut off from them. Eat Water products allow dieters to enjoy the nutritional values of the sauces and ingredient which accompany pasta and rice, without the unnecessary calories produced by the base food itself.
Washed 2-3 times under warm water, the pre-cooked Eat Water products are ready to be heated up with other ingredients, offering a simple and safe way for diabetics, coeliacs, and dieters to feel full without boosting their blood sugar and calorie intake.
A customer service representative from Muscle finesse was available to comment on the newly added collection. 'There are plenty of ways to lose weight, and our various supplements are targeted towards helping with that. But for some individuals strict calorie control works best, and this can be hard to achieve while still eating filling and enjoyable foods. We're hoping these groups will love Eat Water products as much as we do, and reach their goals a little faster.'
Muscle Finesse are suppliers of fitness and nutritional wholesale supplements UK, exercise equipment, and accessories, trading to consumers and companies nationwide from their central headquarters in the heart of Peterborough. They encourage trust from their customers with strict quality guidelines applied to each and every product, and hope the unique appeal of Eat Water products will be able to aid consumers in their weight loss goals throughout 2013.