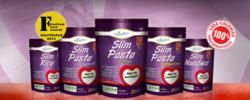 Eat Water products boast only 7.7 calories per hundred grams, with zero carbohydrates and zero sugars.
Peterborough, Leicestershire (PRWEB UK) 19 June 2013
Losing weight is a difficult thing to get right. There's a huge trade off every day for exercisers across the country between calorie intake, and the importance of satiety. Being able to feel full and satisfied wreaks wonders on any weight loss scheme, yet filling food high in fat and carbohydrate rarely work with the dieter's best interests at heart.
Muscle Finesse, a Peterborough based supplier of fitness supplements and weight loss aids, understand the difficult problem this poses, which is why they're proud to be introducing a brand new range of slimming, filling foods from Eat Water®.
The new range of Slim Pasta, Slim Noodles & Slim Rice are made from an Asian vegetable fibre named Moyu, or Konjac. Much like regular pasta, noodles and rice, the food swells up slightly in the stomach, creating a long lasting sensation of fullness which helps with any diet. Unlike regular pasta, noodles and rice, Eat Water® products boast only 7.7 calories per hundred grams, with zero carbohydrates and zero sugars.
Dieters don't even have to worry about the unpleasant taste many low-calorie alternatives often display. The Slim Foods range is designed to be entirely tasteless. This means buyers can put all their normal calories into preparing flavourful sauces, meats and ingredients which they may normally have to cut down on.
Each 200g pack costs £2.49 on Muscle Finesse's online store, and is good for a recommended three servings, to be enjoyed as a low calorie treat or regular meal. As an extra reward for customers looking to stock up on their meals in advance, Muscle Finesse are currently offering a discounted price of £10 when you mix and match any five items from the new Eat Water® collection, from Penne, Fettuccine and Spaghetti to Rice and Noodles.
Muscle Finesse are one of the leading suppliers of fitness and weight loss equipment and supplements, with years of experience passing on savings direct to the public, while also supplying over 1,000 gyms, trainers, and retailers across the country at fantastic wholesale prices. Any parties interested in setting up an order on Muscle Finesse's new stock of Eat Water® products can give them a call on 01733 232 994, or contact the customer service department at support(at)musclefinesse(dot)com.