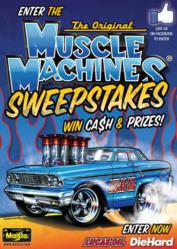 The prize packages from our marketing partners, Lucas Oil and DieHard Batteries, really puts this promotion over the top.
Los Angeles, CA (PRWEB) October 17, 2012
Maisto International, the worldwide leader in die-cast replicas, recently announced a new Facebook contest, the "Muscle Machines Sweepstakes." Three lucky participants will be awarded including a grand prize valued at nearly $1250 which includes a new collection of Muscle Machines cars, prize packages from Lucas Oil and DieHard Batteries and $250 cash. Second place and third place winners will also receive prize packages and cash from the contest sponsors.
The Muscle Machines Sweepstakes started on October 9 and runs through November 9, 2012. Participants must "Like" all three Facebook fan pages on Muscle Machines, Lucas Oil and DieHard Batteries for a chance to win.
Muscle Machines was acquired in January 2012 by the May Cheong Group, manufacturers of popular die-cast and radio-control brands Maisto and Bburago. Muscle Machines was inspired by the artwork of Rohan Day and given 3D life by die-cast designer Bruce Shultz. The line features American muscle car replicas with exposed chrome-plated engines and beefy rear wheels. Currently in stores now, the Muscle Machines collection is expected to be a huge hit this holiday season. The line includes replicas in 1:18, 1:24 and 1:64 scales, as well as radio-control 1:18.
The grand prize package will include: Muscle Machines Ultimate Fan Pack (a collection of the most popular and newest Muscle Machines cars), $250 cash from Maisto, a Lucas Oil Super Pack (Lucas Oil products, backpack, fan gear and GoPro HD Motorsports Hero Camera) and a DieHard Batteries Fan Pack (Platinum Car Battery and Extreme Flashlight Combo set).
"We couldn't be more excited about the Muscle Machines Sweepstakes," says Rick Berman, Director of International Licensing/Marketing/Design. "To be able to offer some our fans the ability to win some awesome MM products for us is fantastic, but the prize packages from our marketing partners, Lucas Oil and DieHard Batteries, really puts this promotion over the top. We just wish we could enter the contest ourselves."
Maisto International has brought on-board downtown Los Angeles marketing agency, Forte- The Collective to create and direct all aspects of The Muscle Machines Sweepstakes.
Enter Now: MUSCLE MACHINES SWEEPSTAKES
About Maisto International
The Maisto brand name was registered in 1990 by May Cheong, a vertically integrated manufacturer based in Hong Kong. The company has been manufacturing die cast replicas for over 40 years, employs over 11,000 employees worldwide and maintains their own manufacturing facilities covering over 2,000,000 square feet. For more information, visit them at http://www.maisto.com, http://www.musclemachines.com and http://www.facebook.com/TheOriginalMuscleMachines.
About Lucas Oil Products, Inc.
Lucas Oil Products, Inc., Founded in 1989 by former trucking company owner Forrest Lucas and his wife Charlotte Lucas. The company produces a premium line of oils, greases and problem solving additives for the consumer automotive industry and a heavy-duty line of products for the industrial and agricultural markets. Lucas Oil Products, Inc., additionally produces a complete product line for: heavy-duty commercial trucking, motorcycles, ATV/UTV, marine and industrial applications.
Lucas Oil Products, Inc., also owns Lucas Oil Production Studios, which produces over 300 hours of original content for several different networks including: CBS, CBS Sports Network, NBC, NBC Sports, SPEED and MAVTV networks.
Lucas Oil purchased the MAVTV network in 2011. MAVTV, "American Real" is targeted at U.S. action-oriented households, featuring major action/adventure movies, diverse original motorsports racing coverage and a variety of comedic, adventure and documentary series.
For more information go to http://www.LucasOil.com and http://www.MAVTV.com.
About the DieHard brand
Introduced in 1967, Sears designed the DieHard automotive battery to produce 35 percent more usable starting power than other similar batteries. Featuring a revolutionary tough, thin-walled case of translucent polypropylene plastic, which was 50 percent thinner than conventional black rubber-type battery enclosures, the design's extra room meant bigger plates, more acid and extra starting power. During testing, not a single failure was reported in over 26,000 starts in temperatures ranging from sub-zero to more than 100 degrees, hence the name "DieHard". Recently DieHard Platinum batteries were named #1 by a leading consumer publication five years in a row. See more DieHard history and compelling "Battery Torture" Video at http://www.DieHard.com.
About Forte- The Collective, LLC.
Forte- The Collective is a marketing and advertising agency that offers traditional and new media marketing for brands across the United States and all over the world. Based in downtown Los Angeles, they deliver progressive creative and strategic marketing to meet the contemporary needs and expectations of their valued clients. Forte- The Collective's competitive edge goes beyond the walls of marketing by building brands and maintaining enduring client relationships and partnerships, something they take great pride in and deliver to their clients above anything else. The agency's most impactful work and areas of expertise have helped many client industries in: manufacturing, professional services, education, entertainment, sports and non-profit.
For more information, visit http://www.ForteTheCollective.com or call 213.973.9725.
###