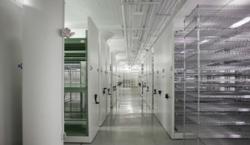 New York, NY (PRWEB) October 07, 2011
Utilizing the services of architects and other experts in the field of antiquity preservation, Cooper Hewitt has pursued a well-developed process of identifying the storage requirements for their diverse collections, including the viability of stabilizing vulnerable objects including 3D items on high density or stationary shelving, ensuring visibility and access for staff and researchers and ensuring that space would be used in the most economic and safe way; while also providing an environment that encourages sustainability.
Scheduled for the fall of 2011, the Museum will realize its dream and work will begin on a large renovation of the main facility including additional storage and enhanced facilities for collections displays and exhibits. As it's known, the RE-DESIGN campaign is focused on creating a 21st century facility that will dramatically increase the number of visitors to the Museum by offering a much improved on-site learning environment while incorporating a newly designed online presence. The third phase of the $64 million capital campaign will be to increase the endowment provided to the Museum to ensure the expansion of its collections.
In preparation of the upcoming project, a critical decision was made to move archival collections to an off-site conservation, study and storage facility located in Newark, NJ. This building offers a climate controlled environment and 24/7 security and is designed to the highest preservation standards.
Using the design and product services of Modern Office Systems, LLC located in midtown Manhattan, the Museum was not only able to maximize the space they needed but also saved money in two distinct ways. By incorporating new Spacesaver shelving and Delta cabinets with existing Penco widespan shelving and Metrowire shelving, Modern Office Systems saved the museum untold monies. Also, Modern Office Systems provided the museum with Spacesaver high density mobile compact storage systems to house their vast, eclectic collections. The high density systems allowed the museum to reduce the amount of expensive rented floor space in comparison to conventional static storage systems. The savings in rental fees alone insured a quick return on investment.
Cooper Hewitt is now positioned to join the "big boys" of museum row as a major player in the neighborhood.
###