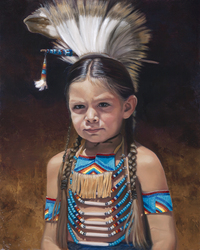 Western Art continues to be a popular investment
Corsicana, TX (Vocus) November 18, 2010
Western art is riding high in the saddle as the master artists of Western Artists of America take to Texas for their 7th Annual Show and Sale at The Pearce Museum. The show is expected to generate between $1M - $2M in sales and the museum will use a portion of those proceeds to improve their museum and add to their permanent collection.
Prices for the most desirable works by contemporary artists are set to surge as much as 30% as collectors spend again, dealers and advisers predicted in a Bloomberg News 2010 survey.
"Western Art continues to be a popular investment," said Ed Holmes, president of Western Artists of America. "Many of our WAA artists have long resumes and price points that are attractive to collectors of fine art."
The current economy did not dampen the enthusiasm as collectors bid nearly $9M on classic and contemporary Western, wildlife, and sporting art at the 2010 Coeur d'Alene Art Auction (http://www.cdaartauction.com) in Reno, NV which set several world auction records. The annual Quest for the West Art Show and Sale in August 2010 at the Eiteljorg Museum in Indianapolis generated over $1M in sales.
Forty of the world's best artists and sculptors feature our Western heroes with the integrity, strength of spirit, and moral character that is an integral part of our Western heritage. Art lovers and art collectors will view the American West, in all its splendor: cowboys and cowgirls, Native American children, elders and warriors, rodeo, western landscapes, mountain men, buffalo, stagecoaches and more. If those rugged images excite you, then this is just the spot for you on January 28/29, 2011 in Corsicana, Texas (just south of Dallas/Fort Worth).
Corsicana's motto is where "Country Meets Culture" and, simply stated, that means people will find everything here from armadillos to antiques, from rodeo to rare civil war documents, and from fruitcakes to fine western art.
"We are delighted to host the 7th annual Western Artists of America (WAA) Show & Sale here at the Pearce Museum, on the campus of Navarro College (http://www.NavarroCollege.edu). It is a wonderful opportunity, not only for the museum, but also for the community," said Holly Beasley, curator of the Pearce Museum. "While the museum is just south of Dallas/Fort Worth, an event of this caliber will surely put Corsicana on the cultural map and bring a higher level of prestige to the Pearce Museum."
Prominent artists to look for at this year's WAA show include Ed Copley, (http://edcopleyfineart.com/) known as the modern day old master. His great, great, great grandfather was John Singleton Copley who is recognized as America's greatest and most influential painter in colonial America. Copley will also be showcasing one of his portraits painted on copper, a technique that was done by the old masters of the renaissance period.
There will be a special exhibition and sale of five (5) originals from the late master artist Kenneth M. Freeman (kenne, known as the Rembrandt of the Rodeo. In 2010, Freeman's work has been seen around the country in two traveling museum exhibitions at The Booth Museum, The Phippen Art Museum and at The Desert Caballeros Western Museum. Freeman has been honored with The Cowboy Spirit Award as well as the WAA Lifetime Achievement Award, among others. He was the illustrator for authors including Louis L'Amour. His work is in the permanent collections of the Smithsonian Museum, The Library of Congress and The Booth Museum.
Karen Cooper (https://artbc.com/Home_Page.html), an award-winning artist from Santa Fe, NM, has been chosen as the Poster Artist for the 2011 Cheyenne Frontier Days Rodeo. Sharon Brening (http://www.sbrening.com) from Peoria, AZ has one of her paintings (Wrestling with Innocence) in the permanent collection of the Pearce Museum and had a two month exhibition called Traditions Are Alive at the Pearce Museum in May/June 2010.
And finally, stop by and meet Ed Holmes (http://www.mountaintrailsgalleries.com/artists/holmes.php) who is not just a great artist but is also the founder and president of Western Artists of America. Holmes' work has been featured in such notable publications as: Southwest Art, Cowboys & Indians and Art Life. Ed's western paintings can be found in major private and corporate collections throughout the US, Canada, and Europe.
About the Western Artists of American Annual Show & Sale
The WAA Show & Sale has two days of events that include a Friday (Jan. 28) lecture with master painter Jay Hester on oil painting and also a lecture with master sculptor Keith McMasters on bronze sculpture. Friday night is the exciting Art Auction from 6 – 8 PM. On Saturday (Jan. 29) the WAA offers a great autograph party to meet the artists followed by an Artists' Quick Draw Competition where WAA artists mentor college art students with all proceeds going to the Pearce Museum. The WAA event wraps up on Saturday night with the gala Western Artists of America Awards Dinner hosted by Bob Boze Bell of True West Magazine.
"Several members of WAA have artwork within the Pearce Museum permanent collection. This event will give us the chance to meet other western artists through which we can expand our collection," added Beasley.
About Western Artists of America
Western Artists of America is an organization formed in 2000 for the purpose of promoting the talents of professional fine artists specializing in the genre of cowboy, Native American, pioneer, cattle and horse subjects with backgrounds appropriate to the subject matter. Formed to showcase the talents of the many qualified fine western artists of today irrespective of gender, the more seasoned members seek out up and coming talent who exhibit a high interest in the western genre for mentoring. These artists' works are showcased in an annual event sponsored by a national art museum. The Pearce Museum on the Navarro College campus in Corsicana, Texas will host the 2011 show and sale for the WAA.
Website: http://www.WesternArtistsOfAmerica.com
About The Pearce Museum at Navarro College
Our mission is to preserve, collect, and interpret the history of the American Civil War and the art of the American West.
The Pearce Museum at Navarro College is divided into two distinct exhibit areas. The Civil War Gallery is an interactive experience designed to give the visitor a humanistic overview of the Civil War, including issues, causes, battles, leaders, plight of the common soldier, the home front, and the aftermath. There are currently more than 15,000 items in the Civil War collection, while less than five percent are on display at any one time. The Western Art Gallery features two- and three-dimensional works of art depicting many aspects of the historical and contemporary Western experience including cowboys, Indians, settlers, and pioneers. There are 228 works in the Western Art collection with not quite fifty percent of those pieces on exhibit at any one time. The Pearce Museum - Navarro College - 3100 W. Collin Street - Corsicana, TX 75110 - 903-875-7642 Website: http://www.pearcecollections.us
ONLINE RESOURCES:
HD Video (can be embedded): http://www.dmproductionsllc.com/waa.htm
High Resolution Images available upon request. Contact doug(at)dmproductionsllc(dot)com with your request.
Keywords: Western Artists of America, Pearce Museum, Navarro College, western art, fine art, museum, museum exhibition, cowboy, cowgirl, mountain men, rodeo, western landscapes, Native American, Native American elders, Native American children, portraits, Charles Pearce, Texas, Texas museums, Kenneth Freeman, Ed Holmes, Ed Copley, Sharon Brening, Jay Hester, Keith McMasters
###