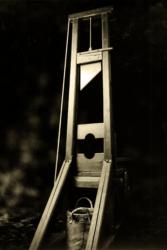 Instruments of Torture takes a look at the darker side of human nature: the capacity to inflict intentional pain and suffering on other human beings.
San Diego, CA (PRWEB) July 03, 2012
Starting Saturday, July 14th, 2012, the San Diego Museum of Man (SDMoM) takes a look at the darker side of human nature: the capacity to inflict intentional pain and suffering on other human beings.
SDMoM's newest exhibit, Instruments of Torture, features implements from the 16th, 17th, 18th, and 19th centuries, including the Iron Maiden, the Rack, Thumbscrews, a Chastity Belt, a Guillotine, and more. All of the artifacts come from the Museo della Tortura in Italy, which lent the objects for a similar exhibit on torture that was at SDMoM in 2000.
This time, however, the message is deeper. "Torture is one of the most critical issues in the world today," says Milburn Line, Executive Director of the Joan B. Kroc Institute for Peace and Justice. "Especially when you talk about the Rack or the Iron Maiden, people think torture is a historical artifact, something that happened centuries ago. But as Abu Ghraib, the Holocaust, the genocides in Africa, and other contemporary incidents have shown us, torture still exists. That's why we are partnering with the Museum of Man to address this important topic."
In addition to the physical devices, Instruments of Torture also includes sections on human rights, the psychology of torture, and why torture occurs in the world today. Visitors to the exhibit are asked to challenge their own assumptions about torture, examining the nuanced situations in which ordinary people find themselves. Ultimately, the exhibit encourages visitors to contemplate their own human frailty, the conditions that lead to torture, and how they can be "upstanders," or people who stand up against these atrocities that persist century after century.
"Our goal at SDMoM is to be a site of discourse about important issues in our community. We wanted to give people an opportunity through this exhibit to learn about torture and what they can do to stop it," says Dr. Micah Parzen, CEO of SDMoM. "We are very grateful to our exhibit partners for helping us bring Instruments of Torture back to SDMoM in such a contemporary light."
The San Diego Museum of Man is open from 10-4:30 every day except Thanksgiving and Christmas. Admission to Instruments of Torture includes general museum admission and costs $20 for adults, $17 for seniors and military, $15 for students and children ages 13-17, $12.50 for children under 13, and $7.50 for SDMoM members. Children under age 13 are not admitted without a parent or guardian.
More information is available at http://www.museumofman.org/torture.
About SDMoM: AAM Accredited and Smithsonian Affiliate
Located beneath the ornate 200-foot California Tower, SDMoM is the city's only museum devoted to anthropology and archaeology. With its Spanish colonial and mission-style architecture, the landmark building was originally constructed for the 1915 Panama-California Exposition. Today, SDMoM is dedicated to using its world-class collections, vibrant exhibits, compelling public programming, and creative social media to fulfill its mission of "Inspiring human connections by exploring the human experience." SDMoM's vision is to be "San Diego's dynamic place to go to learn about each other, reflect on our place in the world, and build a better community." For more information about SDMoM, please visit http://www.museumofman.org.
About Museo della Tortura:
For more than 30 years our company is committed to the management of exhibitions regarding torture practices. Thanks to the cooperation and dedication of many researchers and collectors from Italy and Europe, the Museo della Tortura has gathered the richest collection of its kind. The continuous acquisition of objects made over the years has allowed the diversification of the museum heritage and produced unique exhibitions characterized by their particular topics or cultural purposes. The repertoire is made of more than a thousand pieces, and nowadays it is divided into five permanent museums and many touring exhibitions worldwide.
The main objective of this exhibition is that of launching a message against torture, however, it is also a cry of alarm for the future. At a moment in which themes such as antisemitism, intolerance, racism, violence and war return to daily news in a sinister manner, this project, articulated according to varying cultural initiatives, certainly represents a moment of reflection.
For more information about the Museo della Tortura, please visit http://www.museodellatortura.it.
About Survivors of Torture, International:
Survivors of Torture, International (SURVIVORS) is an independent nonprofit organization dedicated to caring for survivors of politically motivated torture and their families who live in San Diego County. Since 1997, SURVIVORS has helped survivors to recover from their traumas through a holistic program including medical, dental, psychiatric, psychological, and social services. SURVIVORS empowers torture survivors to reclaim the strength and vitality that were stolen from them by brutal dictators and governments. The specialized care SURVIVORS provides these vulnerable individuals helps them to become self-sufficient and healthy members of their families and of our community. For information about SURVIVORS, visit http://www.notorture.org.
About the Joan B. Kroc Institute for Peace and Justice:
The Joan B. Kroc Institute for Peace & Justice, part of the Kroc School of Peace Studies at the University of San Diego, works locally, nationally and internationally to: a) build peace with justice by strengthening women peacemakers, youth leaders and human rights defenders; b) broaden constituencies for peace and justice by convening a wide range of stakeholders and serve as a resource to local communities, students, academics and practitioners; and c) develop, distill and disseminate innovative approaches to peacebuilding leadership, policy, practice and advocacy. The IPJ was founded in 2000 with a generous gift from San Diego philanthropist Joan B. Kroc, who stipulated that the Institute not only "talk about peace, but make peace." In addition to sponsoring the Women PeaceMakers Program and WorldLink – Connecting Youth to Global Affairs at USD, the IPJ collaborates on projects and advocacy in Cambodia, Colombia, Guatemala, Guinea, Ivory Coast, Kenya, Liberia, Nepal, the Philippines and Sierra Leone. More detail is available at http://www.sandiego.edu/peacestudies/ipj/
About the International Legal Studies Program at California Western School of Law:
The International Legal Studies Program at California Western School of Law offers an enriched curriculum in international and comparative studies. Taught by talented faculty with academic and practical experience, the classroom emphasis on theory and practice is complemented by curricular programs providing real-world experience. California Western School of Law is the independent, ABA/AALS-accredited San Diego law school that advances multi-dimensional lawyering by educating future lawyers as creative problem solvers and principled advocates who frame the practice of law as a helping, collaborative profession. For the third year in a row, California Western is the only U.S. law school named to the President's Higher Education Community Service Honor Roll with Distinction. For more information about California Western, please visit: http://www.CaliforniaWestern.edu
For more information or to schedule an interview with SDMoM CEO, Dr. Micah Parzen, or the Chief Operating Officer, Rex Garniewicz, please contact Hope Carlson at (619) 239-2001, ext. 16 or hcarlson(at)museumofman(dot)org