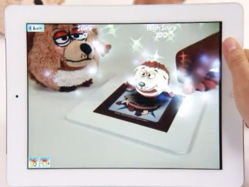 Jay@Play is thrllled to announce that MushABellies has been awarded the PTPA Winner's Seal of Approval.
New York, NY (PRWEB) June 30, 2012
Jay@Play is thrilled to announce that MushABellies has been awarded the PTPA Winner's Seal of Approval. PTPA Media has North America's largest volunteer parent testing community, with over 40,000 parents and was rated the Most Trusted Seal by 22,000 parents.
Consumers looking for high-quality products and services can rest assured when they see the PTPA Winner's Seal; it's evidence of a product's excellence from having been evaluated by unbiased parent testers.
The all new MushABellies Plush Collectibles include a cutting-edge 3D augmented-reality game, powered by Jay@Play's ToyTube Network. MushABellies blends the game world and the real world using a smart phone device and exclusive, patented augmented reality from software developer Gravity Jack.
The MushABelly App works on any supported smartphone and tablet including iPad 2+, iPhone 4+ iPod touch 4th generation + and Android phones and tablets running Android 2.3+. Players can capture video or take a screenshot of the game play, and share the fun with friends online by posting to Facebook, Twitter, or ToyTubeNetwork.com.
MushABellies was among many entries from across North America competing to earn the PTPA™ Seal. Independent parent volunteers evaluate products in their own homes to ensure that PTPA winners are chosen based on merit and consumer experience – not on commercial considerations. As a result, the PTPA Media™ Seal has quickly gained recognition as an international leader in certifying consumer products for quality, effectiveness and value. Their
CEO and founder, Sharon Vinderine has appeared on nearly 50 morning shows as a reliable source for the latest and greatest in family products. The media and parents alike trust the collective opinion that PTPA Media represents.
Being honored with the influential Seal of Approval from PTPA Media Inc. is a huge achievement for a product geared to families, children or parents. "At PTPA Media, we are proud to play a role in certifying innovative products that families can trust," says Sharon Vinderine, CEO and founder of PTPA Media Inc. "When consumers search for our Seal of Approval on product packaging and web sites, they are essentially searching for validation from their peers. Their peers will have objectively tested and approved these products based on their performance in a real life environment. That type of resource for families is priceless."
About Jay@Play:
MushABellies' new 3D Augmented-Reality Game, powered by Jay@Play's ToyTube Network™, blends the game world and the real world using smart phone devices and exclusive, patented AR software from developer Gravity Jack.
Jay@Play International was established in 2004 and is a Hong Kong-based company with a showroom in New York City. The company's products are distributed internationally through companies that promote all of their brands on television. Following the worldwide success of its best-selling original Plush MushABellies and Happy Nappers product lines, Jay@Play is now launching TV campaigns in the US for the New MushABellies Plush with 3D Augmented Reality Game and CuddleUppets, Jay@Play International is a subsidiary of Jay Franco & Sons, the industry leader in the home-furnishing industry.
About PTPA Media Inc.
PTPA Media provides an objective framework for appraising and promoting new products designed to enrich family living. The company's mission is to marry innovative companies with discerning consumers, to improve consumer access to quality products and services for their families and homes.