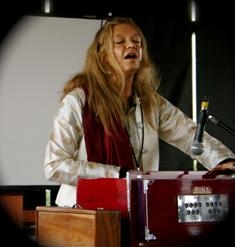 Since time immemorial, every spiritual tradition of the world has used sound for healing
San Francisco, CA (PRWEB) September 20, 2011
California Institute of Integral Studies (CIIS) Public Programs & Performances is proud to host the Certificate in Sound, Voice, and Music Healing. The year-long program offers students an in-depth study of sound's power to transform consciousness and facilitate healing and well-being. The San Francisco sound and music healing Certificate program is designed for anyone who has a strong interest in learning about the transformative and healing powers of sound. No prior experience with sound healing is necessary to apply. The program runs from September 2011 to June 2012 at the main CIIS building, located at 1453 Mission Street in San Francisco.
"Since time immemorial, every spiritual tradition of the world has used sound for healing. Sound is an integral part of the healing power of shamanic practices, and is used extensively today in scientific research, as well as in integrative medicine and as a tool in pain management" says Karim Baer, Director of Public Programs & Performances at CIIS. "Now more than ever the complexity of health care in the United States demands this powerful merging of Eastern and Western healing philosophies."
This program was the first Certificate program of its kind in the nation, and since its founding the field of sound and music healing has been rapidly gaining recognition as an essential component of health care in our society.
"In view of the fast-emerging fields of sound and music in healing, as well as contemporary shamanism, it is increasingly important to understand how sound, music, and chant can support therapeutic and growth processes," notes Baer.
The Sound, Voice, and Music Healing program is designed to deepen the practice of health care professionals, psychologists, clinicians, educators, musicians, singers, sound healers, music therapists, meditation and yoga practitioners, body workers, and spiritual seekers, although enrollment is not limited to those fields. The Sound, Voice, and Music Healing program requires that students commit to the Certificate's time requirement, which includes 200 class hours and special projects over the course of ten months.
The program is the inspiration of Silvia Nakkach, a pioneer in the field of sound and transformation of consciousness, and brings together leading teachers of the highest caliber, including Ysaye Barnwell; John Beaulieu; David Darling; Ubaka Hill; Glen Velez; Mingtong Gu; Donald Yance; and more.
"The coursework and its organization could not have been better tailored to my own experience… I now feel more confident in my own abilities from the nurturing gleaned from these new vocal techniques," says Jerre Allen, shamanic sound alchemist, 2011 program graduate.
Kate Busby, a social worker and 2006 program graduate, declares, "The program moved me closer to creating my own healing arts and energy medicine practice. I am now ready and situated in my life to move even deeper into my experience as a sound healing practitioner."
Participants can register by phone at 415-529-4691; online at http://www.ciis.edu/publicprograms; or in person at CIIS Public Programs & Performances, 695 Minna Street, San Francisco, CA 94103. The total Certificate price is $3,550. A deposit of $500 is required to reserve a spot.
About CIIS Public Programs & Performances
CIIS Public Programs & Performances is an extension of the California Institute of Integral Studies, a nonprofit university dedicated to personal and social transformation. The mission of CIIS Public Programs & Performances is to uplift and engage San Francisco Bay Area communities by offering a global showcase of performing arts and educational events. Our performances celebrate cultural diversity by presenting traditional and contemporary artists from around the world. Our lectures by leading scholars and authors provide a platform for exploring new perspectives about oneself and society. Our workshops and certificate programs, taught by leaders in their respective fields, encourage personal discovery, spiritual inquiry and professional development.
For more information about the Sound, Voice, and Music Healing Certificate or any of CIIS Public Programs & Performances' other Certificate programs, including the new program focused on mindfulness in psychotherapy, call them at 415-529-4691, visit them on the web at http://www.ciis.edu/publicprograms, or visit their campus, located at 695 Minna Street in San Francisco's SOMA district.
# # #