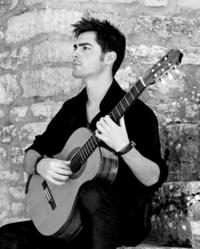 Listening to the debut album by guitarist Miloš Karadaglić, you find yourself wondering where on earth the classical guitar has been lately
San Francisco, CA (PRWEB) September 30, 2011
A celebrated classical guitarist is wowing international audiences, and California Institute of Integral Studies (CIIS) Public Programs & Performances is proud to present one of only three US stops on the tour. The much-lauded classical guitar virtuoso Miloš Karadaglić will perform in concert on October 15th at 8:00 at the Herbst Theatre in San Francisco. His debut album, Mediterraneo, has received wide critical acclaim.
"Listening to the debut album by guitarist Miloš Karadaglić, you find yourself wondering where on earth the classical guitar has been lately. As he moves from haunting compositions by Tarrega, Albeniz and Granados to the more abstract shapes of Carlo Domeniconi's Koyunbaba suite, it's as if Karadaglić is shining a brilliant light on the entire heritage of his instrument," raved the Daily Telegraph.
Born in 1983 in Montenegro, Miloš Karadaglić is regarded as one of today's most gifted young guitar players. Growing up during the time of the recent Balkan War, Karadaglić began playing the guitar at the age of eight. He and his family found that music provided reassurance, and a means of escaping the trials and tribulations of living in a war-torn country.
At age sixteen, Karadaglić was awarded a scholarship to study at the Royal Academy of Music where, after graduating with First Class Honours, he went on to complete a Masters degree in Performance and was subsequently made a Meaker Junior Fellow—the first guitarist to be given this accolade at the Royal Academy.
Karadaglić has received the Julian Bream Prize, and the Silver Medal of the Worshipful Company of Musicians. Having received scholarships, Karadaglić now works to support young talent as a patron of the charity Awards for Young Musicians.
In July 2010, Karadaglić signed an exclusive recording contract with Deutsche Grammophon. His first recording, Mediterraneo, topped the U.K. classical charts, and was released worldwide in spring 2011 to critical acclaim. A video clip of his remarkable playing is available on CIIS Public Programs & Performances' website: http://www.ciis.edu/News_and_Events/Event_Calendar/Milos_Karadaglic.html.
The Independent (UK) said that the "impending stardom of this remarkable musician will come as no surprise."
Karadaglić's appearance in San Francisco is one of three engagements on his first US tour, including his much anticipated New York City recital debut at Carnegie Hall.
"We don't know when he'll be back in the States, so catch this rising young star now… you'll regret that you didn't get to see him perform when you had the chance!" declared Karim Baer, Director of Public Programs & Performances at CIIS.
Tickets to this San Francisco world music event are available by phone at (415) 392-4400, online at http://www.cityboxoffice.com, or in person at City Box Office, 180 Redwood Street, Suite 100, San Francisco, CA 94102. Seats range from $25/$35/$50/$65, with a 20% discount for groups of 10 or more.
The Herbst Theatre, a historic San Francisco performing arts space, is located at 401 Van Ness Avenue at McAllister, behind San Francisco City Hall, and is easily accessible by BART and MUNI. Parking is available at the Performing Arts Garage at Grove Street between Franklin & Gough Streets.
About CIIS Public Programs & Performances
CIIS Public Programs & Performances is an extension of the California Institute of Integral Studies, a nonprofit university dedicated to personal and social transformation. The mission of CIIS Public Programs & Performances is to uplift and engage San Francisco Bay Area communities by offering a global showcase of performing arts and educational events. Our performances celebrate cultural diversity by presenting traditional and contemporary artists from around the world. Our lectures by leading scholars and authors provide a platform for exploring new perspectives about oneself and society. Our workshops and certificate programs, taught by leaders in their respective fields, encourage personal discovery, spiritual inquiry and professional development.
For more information about the upcoming performance by classical guitarist Miloš Karadaglić, or any of CIIS Public Programs & Performances' other world music concerts, call them at (415) 529-4714, visit them on the web at http://www.ciis.edu/publicprograms, or visit their campus, located at 1453 Mission Street in San Francisco's SOMA district.
# # #