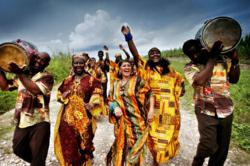 The sweet harmonic sounds and melodies from the Creole Choir of Cuba brought audience members to their feet with tears of joy... Spiritually uplifting... A must see for the whole family
San Francisco, CA (PRWEB) October 05, 2011
Formed in the midst of devastation and poverty that marked the end of Soviet support for Cuba, a group of people descended from Haitian immigrants who had worked in Cuba's sugar fields came together to resurrect the protest songs of their ancestors, bringing hope and inspiration with their beautiful harmonies and infectious rhythms. California Institute of Integral Studies (CIIS) Public Programs & Performances is proud to present a concert that will bring the heartfelt songs of the Creole Choir of Cuba to the Bay Area. The ten-member group will perform on November 3rd at 8:00 at the Herbst Theatre in San Francisco. The choir is embarking on their first major US tour to promote their album Tande-La, which has received international critical acclaim.
"The sweet harmonic sounds and melodies from the Creole Choir of Cuba brought audience members to their feet with tears of joy... Spiritually uplifting... A must see for the whole family!" raved The Voice.
The Creole Choir of Cuba was founded in 1994 during the "Special Period" when the Cuban economy fell into a black hole following the end of the USSR and of Soviet support for the revolution. Food was in short supply, and homes and work places often went dark due to lack of electricity. It was at this difficult time that members of the Professional Choir of Camagüey, who were descendents of Haitians, decided to re-forge the resistance songs and laments of their forebearers. Lead by their choir director Emilia Díaz Chávez, Grupo Vocal Desandann, as they are called in Cuba, revived the songs of their ancestors for modern times. "Desandann" literally means "descendents" and as the choir says: "For us music is like food, it feeds the spirit and is a major inspiration for everyday life."
The Choir's ten remarkable singers come from Camagüey, Cuba's third-largest city, near the eastern end of the island. They grew up and studied music in this old colonial town, designated a UNESCO World heritage Site in 2008. They have nurtured music passed down in their families since the early 19th century, gradually adding modern Haitian sounds following their own first visit to a Haitian festival in 1996.
With information gathered from generations of Haitian immigrants, the Creole Choir of Cuba promotes and performs music of Haitian origin, especially "La Cancionistica," music that has been enriched by elements of other Creole-speaking Caribbean countries. Their repertoire consists of a wide range of choral arrangements with percussion accompaniment.
"The choir shows that there are many stories in the history of the African diaspora, and that not all the inner life is silent. There's a part which is celebrative and joyful and expressive," declared Karim Baer, Director of Public Programs & Performances at CIIS.
After performing at WOMAD and the Edinburgh Festival in 2009, the Creole Choir of Cuba was signed to Peter Gabriel's Real World record label and has been touring internationally since. The group has been incredibly well received—a fact that pays homage to the vibrant and captivating rhythms, heartfelt harmonies and fresh, inspiring energy they give in every performance. The Sunday Times called their new album, Tande-La, "one of the outstanding releases of the year."
The Creole Choir of Cuba are Rogelio Torriente, Fidel Miranda, Teresita Miranda, Marcelo Luis, Dalio Vital, Emilia Diaz Chavez, Yordanka Fajardo, Irian Montejo, Marina Fernandes, and Yara Diaz. A video clip of their remarkable performance—which the Scotsman called "entrancing, exquisite, unlike any other music show"—is available on CIIS Public Programs & Performances' website: http://www.ciis.edu/News_and_Events/Event_Calendar/Creole_Choir_of_Cuba.html.
"There are full throated solos and passionate choral responses in Creole, creating a rich, ringing sonority which is sometimes defiant, sometimes soothing, but always thrilling," said the Evening Standard.
Tickets to this San Francisco world music event are available by phone at (415) 392-4400, online at http://www.cityboxoffice.com, or in person at City Box Office, 180 Redwood Street, Suite 100, San Francisco, CA 94102. Seats range from $25/$35/$50/$65, with a 20% discount for groups of 10 or more.
The Herbst Theatre, a historic San Francisco performing arts space, is located at 401 Van Ness Avenue at McAllister, behind San Francisco City Hall, and is easily accessible by BART and MUNI. Parking is available at the Performing Arts Garage at Grove Street between Franklin & Gough Streets.
About CIIS Public Programs & Performances
CIIS Public Programs & Performances is an extension of the California Institute of Integral Studies, a nonprofit university dedicated to personal and social transformation. The mission of CIIS Public Programs & Performances is to uplift and engage San Francisco Bay Area communities by offering a global showcase of performing arts and educational events. Our performances celebrate cultural diversity by presenting traditional and contemporary artists from around the world. Our lectures by leading scholars and authors provide a platform for exploring new perspectives about oneself and society. Our workshops and certificate programs, taught by leaders in their respective fields, encourage personal discovery, spiritual inquiry and professional development.
For more information about the upcoming performance by the Creole Choir of Cuba, or any of CIIS Public Programs & Performances' other world music concerts, call them at (415) 529-4714, visit them on the web at http://www.ciis.edu/publicprograms, or visit their campus, located at 1453 Mission Street in San Francisco's SOMA district.
###