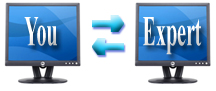 The Pro Audio Instructor speaks on the phone with the customer while at the same time connected to the customers computer screen
Tampa, FL (PRWEB) June 30, 2011
ProAudioClass.com, formerly known as the "The Pro Tools Help Line", now offers training, courses, and technical support for all types of audio production software including Pro Tools, Reason, Cubase, Logic and software plugins.
The company offers a fresh new approach to Pro Tools Training and Pro Audio Training. Before ProAudioClass.com, music recording enthusiasts would have to pay thousands of dollars to attend classes at a college or training center, pay $4 a minute for help from support services that only offer technical support, or pay hundreds for online video training and never get to speak to an instructor.
ProAudioClass.com's instructors talk to the customer personally on the phone during a session, unlike other training companies.
ProAudioClass.com offers "one on one" help, training, and courses. The Pro Audio Instructor speaks on the phone with the customer while at the same time connected to the customers computer screen. The instructor can move the customer's mouse and walk them through using Pro Tools, Reason, and other audio production software.
ProAudioClass.com doesn't just offer technical support, they also offer training and lessons on:
Mixing and Mastering
Recording Techniques
Beat Production
Advanced MIDI
"Get that Sound" lessons.
"Get that Sound" is an interesting approach, as many students want to learn how to get that "radio ready" sound that their favorite albums possess. Some students may wish to achieve a certain "guitar sound" or that "big upfront vocal". The instructors at ProAudioClass.com offer lessons in all these areas.
About the Instructors:
All instructors at ProAudioClass.com are Pro Tools Operator Certified, or have at least 2 years teaching experience at a College or University offering Audio Production Degrees. Most Instructors have major industry credits as well, having done work for companies such as Warner Bros, Capitol Records, Road Runner Records, Virgin Records, MTV, etc.
List of Current Courses:
Pro Tools Courses
Mixing and Mastering Course
Beat Production Course
Total Producer Course
New Courses:
Advanced Music Production Course
Reason, Virtual Instruments & Midi
Logic
Abelton Live
Cubase / Nuendo
Recording Techniques
To book a help session or course, visit ProAudioClass.com or call (860) 577-0801 and speak directly to a Pro Audio Instructor.
###