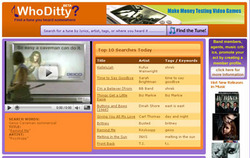 Whoditty answers the musical question, 'Who plays that song I just heard?'
Fairfax, VA (PRWEB) October 29, 2008
One Up Web Services presents Whoditty.com, an innovative music lyrics search and a social networking opportunity for music fans. Members of the site can search for music style, search for artist and lyrics, add tags to the search criteria, and connect with one another.
"Whoditty answers the musical question, 'Who plays that song I just heard?'" states Brett Monk, of One Up Services. "Further, it gives users a community where music fans and artists can interact."
Bands and music promoters are invited to create profile pages then upload their music and videos to promote their acts. Whoditty offers a solution for those artists asking where to upload their own music online. The band or singer's music and lyrics are then available for visitors performing a latest music search for up and coming acts or a music artist search for a particular genre.
One component utilized by Whoditty that is lacking in other search engines for music is its affiliation with LyricFind, who provides a complete, accurate, and fully legal database for its free music search engine. The ability to tag songs from TV commercial and songs from movies is also unique to this website.
"Within a year we expect to hear the word 'whoditty'd' used as a verb meaning 'searched for a tune' in the same vein that 'googled' is used to search for generic topics." Monk says of this latest music search site.
The website is targeted to all music fans and artists across all genres and generations. For music fans who have tried other specific style searches, such as pop or country music search engines, Whoditty offers a one-stop music lyrics search that encompasses all genres.
According to Monk, Whoditty is more than just a top ten music search engine; it allows a visitor to find the song by part of the lyrics or by tags, which contain other information about the song. It can be a recent hit or an old favorite. The visitor can then browse the site for other fans of the song or bands that have a similar style. Site users can search music and listen, and have the opportunity to purchase the CD through Amazon.com or download the mp3 file. If the song is not on the site yet, the user can upload it.
There have been great music search engines used in the past, but if the question, "What is the best music search engine?" is posed in the near future, Monk wants the answer to be Whoditty.com.
About Whoditty.com and One Up Web Services:
One Up Web Services is an innovative web design company that builds sites for outside clients as well as sites that they manage themselves. Client sites are built on a content management system that allows non-webmaster clients to update their own content. Whoditty.com, the latest music search engine, invites visitors to perform music searches in an innovative way and become part of the social networking activities on the site.
###