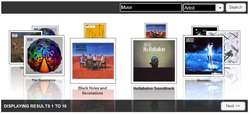 "With the increase in the number of online stores now selling music, consumers do not have the time to shop around for the best deals and search for recommendations and advice." says music-spy.com founder Dean Ismael
(PRWeb UK) December 1, 2009
Music fans can now find the cheapest prices for music downloads and CD's by using the Music Spy search and price comparison engine. The website enables users to search the major music retailers, including 7digital, Amazon, HMV, iTunes and Play.com, to find the lowest price for digital downloads and conventional music CD's.
The website also provides news feeds featuring retailer promotions, including free music downloads and deals of the week, whilst the community forums enable members to share music deals, discuss or request support for downloads and MP3 players, or simply talk about their favourite music, artists or festivals.
"With the increase in the number of online stores now selling music, consumers do not have the time to shop around for the best deals and search for recommendations and advice" says Dean Ismael, founder of music-spy.com.
"The core of Music Spy enables consumers to quickly search the major online and high street stores to find the best price for millions of tracks, but we also wanted to provide more than just a music comparison service by creating a community for members to interact with one another. Music Spy is more of a hub for like minded members to discuss music, search for recommendations and locate the cheapest deals all in one place."
Consumers can also keep up to date with the latest music deals through the Music Spy Twitter and Facebook pages which are updated on daily basis.
Music Spy can be found at http://www.music-spy.com and is a free to use service.
Media Contact:
Dean Ismael • +44 (0)7709 486770
###