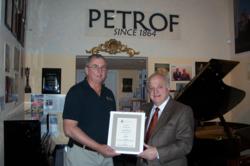 Burlingame, CA (PRWEB) January 18, 2012
San Francisco's music store, World Class Pianos congratulates Joseph Brattesani on his 2011 Top U.S. Sales Achievement Award from the Petrof Piano Company. The achievement will be officially recognized at the National Association of Music Merchants, the largest piano trade show in the U.S., on Jan. 20.
For more than 50 years, Brattesani has worked in the piano business, and has come to know it so well that he acts as a walking encyclopedia for his customers. In 2006, he became the second person ever to receive the Life Achievement Award from the world famous Bosendorfer Piano Company in Vienna, Austria. He has also received sales awards from Schimmel Pianos and Steinway Pianos.
World Class Pianos in Burlingame provides the San Francisco Bay Area with a full range of piano-related services and sales. Whether a customer is just learning to play piano or has been playing for years, World Class Pianos has the expertise and experience to help. By specializing only in pianos, World Class Pianos has an extensive knowledge that customers can rely on.
San Francisco grand piano store, World Class Pianos offers rental pianos, piano teacher referrals, piano tuners and technicians, piano movers, piano appraisals and piano disc. The music store also features a myriad of pianos, including electric pianos, piano keyboards, digital pianos, grand pianos, play pianos and more.
For more information about World Class Pianos, call 650-340-8088, view World Class Pianos on the web at http://www.worldclasspianos.com or visit the store at 1471 Burlingame Ave. in Burlingame.
About World Class Pianos
World Class Pianos, a San Francisco Bay Area music store, offers musical expertise and high-quality pianos at affordable prices. It provides excellent customer service and represents quality pianos and digital pianos that are recognized around the world.
###