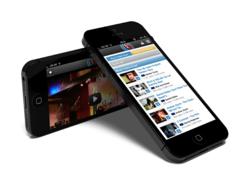 (PRWEB) November 15, 2012
BEAT100 is pleased to announce the release of its new free music video and social network app in the Itunes app store. With the BEAT100 new music video and social network growing exponentially over the last few months we decided it was time to take the plunge and give new and existing users even more ways to enjoy the social network.
So, with that in mind, BEAT100 been toiling away, night and day, to bring you a great new App for the iPhone app" The BEAT100 app features everything that makes the social network great; from instant messaging and chat to the latest viral videos and new music!
As a social network BEAT100 has been growing exceptionally well and we've already seen a huge increase in visitors and, most importantly, great new music videos being uploaded to the network. With hundres of new music videos being uploaded every day it's been a pleasure to be able to share and enjoy such incredible new music from around the world.
The BEAT100 mobile app makes it incredibly easy for users to see the latest videos across the network and offers streamlined access to the music video network, music video charts and the social network. At the same time the App gives you access to a completely free live chat system, social updates and an internal messaging system.
For us, here, at BEAT100 it's great to be able to bring the BEAT100 experience to even more people and to continue to offer the best place for new music and viral videos anywhere on the web.
Also the BEAT100 music video app is now also available in the Facebook App store.