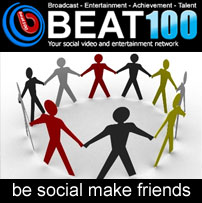 Broadcast and watch new music videos, make new friends and connect - BEAT100 Social Network
(PRWEB) September 20, 2012
The new free BEAT100 mobile app gives music and video lovers the best new music and viral videos at a users fingertips every day.
BEAT100 is a social network that brings users up and coming new music and artists 24/7. BEAT100 runs a music chart that determines the best new music from around the world; a music chart where users decide who tops the music charts!
The BEAT100 mobile app lets users keep on top of the music charts, wherever and whenever they like.
The BEAT100 App features.

Make new friends and connections.
Chat with friends
Upload videos and photos
Watch new music videos
Watch viral, entertainment and social videos,
Vote for the best new music from around the world
Connect direct with bands and new friends
Mail and instant message
Beat100.com is a social network focused on new music, new bands and entertainment. Musicians and bands from around the world upload videos to the BEAT100 social network for a chance to gain worldwide exposure. Every 14 days 3 artists get to share in a prize pool and users get to vote for their favourite videos every 24 hours.
The BEAT100 social network brings you the very best new music from around the world every day of the week; but beat100 is not just about music. Beat100 is also a social network where you can chat with your friends, send messages, read the latest music news and watch the best viral entertainment from around the world. If that wasn't enough users can upload photos, play games, buy concert tickets and so much more.