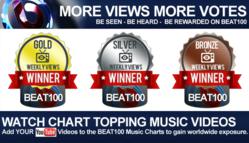 BEAT100 offers you more than any other network... and it's all for free!
(PRWEB) November 27, 2012
BEAT100 are now introducing a new music video award for its users, which will be given to the beat100 bands and musicians with the most viewed video in the music chart every seven days. The Most Viewed Award will be ranked in Gold, Silver and Bronze, with each music video receiving bonus votes of 50, 30 or 20, along with the award. This is given out depending on which video received the most views within seven days, and will be awarded every Monday at 12pm (GMT). This will give users an even greater chance of topping the BEAT100 Music Video Chart and winning the well-deserved cash prizes and feature in a worldwide press release.
These awards are designed to recognise excellence and this is just one of the many awards musicians can receive for their hard work and talent on BEAT100. Some of the other music awards are given to users for well-written original songs, high quality videos and impressive vocal/musical performances. Musicians may also receive a BEAT100 Favourite Award, which will be given out by a member of the BEAT100 Team if they see a video they love.
As a result of these awards, users are more likely to make it to a high place in the chart, where they will be recognised for their talent and musical abilities. Unlike other video networks, we believe in helping unsigned bands and musicians and users feel rewarded for their passion and hard work, therefore BEAT100 felt this was an effective way to do so. Users can post their awards on other social networks or share it with their friends to show their achievement, and is always a great head start in the two-weekly BEAT100 Music Video Chart.
If musicians received a BEAT100 Music Video Award, they should make sure they use it to its best potential and continue to promote their music video on other social networks and through the "Post Beat" tool. Also, users should also connect to other BEAT100 users as we built this network as a friendly community, and BEAT100 users are well-known for supporting each other in the chart. BE SEEN – BE HEARD – BE REWARDED on BEAT100
By Kelly Donovan