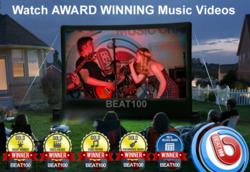 Beat100 only give these awards to selected individuals for their exceptional musical achievement.
(PRWEB) October 04, 2012
BEAT100 believe in rewarding musicians for hard work and dedication to the art. That is why beat100 have decided to significantly increase the amount of bonus votes rewarded to those music videos that stand out.
Artists and bands will be rewarded for high quality music videos, well written original songs, strong musical performance and for being a BEAT100 favourite which will be chosen by the BEAT100 team.
By giving these awards, artists who have put in a significant amount of effort into the uploaded video will immediately be boosted into the charts giving them the confidence and exposure they need to climb their way into the Top 10 of the Music Charts.
These new amounts will be applied to all awards given out to previously uploaded videos rather than staying at the previous lower bonus.
BEAT100 is the perfect platform for musicians to promote their music and make new connections in the music industry. Although social networks such as Facebook and Twitter allow musicians to promote their music, BEAT100 offers a whole new database of people to connect with. The BEAT100 Music Video Chart allows musicians to upload their videos and, unlike YouTube, gain more views and rewards for their hard work. Every 14 days, the Music Video Chart is compiled and the Top 3 winners are rewarded with cash prizes and a worldwide press release. BEAT100 believes that good music should be heard by as many listeners as possible and will ensure this happens.