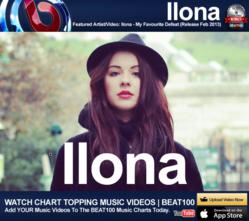 Some acts have great music, some have great music and a beautiful story.
(PRWEB) January 17, 2013
London based singer-songwriter, Ilona's new single 'My Favorite Defeat' has all the ingredients needed to drop in to the slipstream of an exciting new wave of emerging UK singer-songwriters. Any regular visitors to the famous London music venue, The Bedford in Balham will be familiar with Ilona. A relentless hard worker and a fine example of an artist who dedicates her whole life to writing music. Ilona has a real and honest story to tell through her music and it's no surprise she is being talked about as a real contender on the unsigned scene after an amazing 2012.
Originally from Bulgaria, but living in the UK for the past 10 years, Ilona has had a life that makes her unlike many others. BBC London producer Graham Robertson recently described her as having "a voice that sounds like a blend of some the greatest singers of the last 30 years in one person"
A student in London at the time, Ilona was introduced by a mutual friend to former Iron Maiden's Tony Moore - still a well respected musician and now also a popular London promoter at The Bedford - just 18 months ago and they quickly formed a unique bond and began writing down some ideas for songs. "I was just a student" Recalls Ilona, "Only a few months after meeting Tony I was playing at The Hop Farm Festival in 2011, was pretty crazy. We met up for a few sessions and he really liked my voice and wanted to work with me. I was overjoyed, we began getting together and writing down lots of ideas ...before long we were doing little gigs around London, we are working very hard but there's lots to look forward to!.
Lots to look forward to indeed. With support slots already for many established and emerging acts including Newton Faulkner, Passenger, The Dunwells, Rich Hall, Paul Rodgers, Lenny Zakatek (Alan Parsons Project) and Adam Ant as well as closing BBC London Radio Christmas Special show, together with Maxi Priest and The Puppini Sisters, in December 2011, Ilona is a genuine 'One to watch' in 2013 after also impressing during a mini tour of America last year.
She completed the tour of the US in March, where she played an official showcase at the SXSW Festival in Austin, Texas alongside Marcus Foster,The Dunwells and Ed Sheeran, followed by several gigs in Los Angeles before returning to the UK to perform for Team USA during the 2012 London Olympics at the Oakley Safehouse.
Following on from her last release '1966', a song written entirely from song titles of 1966 accompanied by a cool video tribute to Bob Dylan to boot, new single 'My Favorite Defeat' is beautiful. Showing off her majestic vocal range, the song about "The one that got away", which was produced by Tony Moore is expected to be officially released on Valentines Day this year.
"It's a kind of anti-valentines day song really" Explains Ilona. "A song for all those people who don't have someone to share it with I guess. The plan is to release it on valentine's day hopefully. I wrote the song along with Tony. We wanted to write something about going back with someone you probably shouldn't, a kind of story but with a touch of mystery. I'm really hoping it does well in the BEAT100 music charts, so far so good!"
Also being talked about is a cool collaboration with Lloyd Wade of 90's band The Wades. "It's something we're hoping to do very soon, could be a duet even....watch this space!"
As well as spending a lot of time lately doing photo and video shoots to promote the latest single, Ilona also has some live dates coming up soon. On the 22nd of this month she will be playing at The Finsbury in North London and is also confirmed at this years Cornbury Festival in Oxfordshire.
By Alan Devon