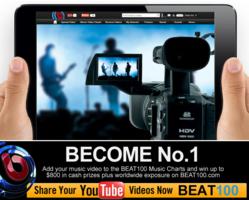 The band's time with BEAT100 has been hugely successful, quickly being named as one of their Ultimate Musicians, which Hillary tells us "has definitely had a positive impact on HRB already."
(PRWEB) April 17, 2013
With a tender voice, rich chords and impeccable songwriting, it's no wonder The Hillary Reynolds Band are one of BEAT100's Ultimate Musicians. The talented band managed to land themselves three BEAT100 Gold Awards for their impressive original song, high quality video and for being classed as one of the favourite BEAT100 videos in the network. The band formed in 2009 and stem from all corners of the US, bringing their unique sounds and personalities to create masterpieces such as 'Leave No Trace'. The Hillary Reynolds Band are pioneers of independent music, functioning as an independent record company. The band record their own albums, route their own tours and act as their own PR. Hillary prefers working in this way; 'maintaining integrity of artistry and building grounded relationships'.
This creative control allows the band to focus on two things; their love of music and their passion for helping worthy causes. The Hillary Reynolds Band are active supporters of many charities, notably The Trina Fund, which raises awareness and funds for women who are struggling with travels costs to get to and from breast cancer treatments, and many other services. The charity is close to the heart of the band as Hillary's mother was the founder before she passed away, a little over a year ago. Hillary recently released 'Your Love', a collection of songs related to her experiences. 100% of the proceeds go to the foundation and thus she offers the gift of her music and her support to those who need it most.
Hillary's writing has been inspired by many members of her family. While she lends her support to those facing their own grief, raising awareness and hope, she has long been inspired by her Aunt (also a songwriter), who she describes as her 'greatest inspiration'. Hillary's songwriting is based on reflection, emotion and growth; following in her Aunt's footsteps, she is inspired to 'confront her emotions through music.'
As well as her genetic songwriting inspiration, the band's influences stretch from the pinnacle sound of 60s song writing, the soulful melodies of Motown, stomping themes of rock 'n' roll to modern pop artists; The Beatles, Fleetwood Mac, The Supremes, AC/DC, Coldplay and Mumford and Sons to name but a few. They even take inspiration from the soundtracks of modern musicals, such as Jesus Christ Superstar and Grease. This wide array of influences makes for wholesome songwriting that connects with the heart of any music lover; their lyrics speak volumes about their plethora of musical influences and they write melodies that slide between genre with grace and elegance.
The band's time with BEAT100 has been hugely successful, quickly being named as one of their Ultimate Musicians, which Hillary tells us "has definitely had a positive impact on HRB already." The band's growing fan base "across the pond" means a lot to them, and they have high hopes for their future in the UK. In true American style, Hillary told BEAT100 'Lo and behold, y'all have got a big operation. And a good one, at that.' Their new video, 'Crossing The Line', will be out in April and, meanwhile, the four men and little lady are busy preparing for a new full-length record. Sign up to BEAT100 to watch and vote for, 'Leave No Trace'.
BE SEEN – BE HEARD – BE REWARDED