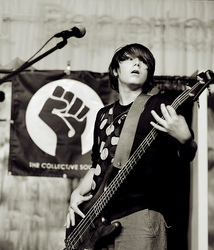 Write, Record, Perform and Tour
Laguna Beach, CA (PRWEB) May 18, 2010
The Collective Sound Music Academy will be bringing its original summer music camp for youth, ages 12 to18, to two west coast cities for summer 2010.
This year, TCS will be offering its three-week "Write, Record, Perform and Tour" summer music camp on the Vanguard University Campus in Costa Mesa, CA from June 27th - July 16th. It will also be offering a second, two-week program in Portland, OR, without the tour component, from July 18th - July 30th at Concordia University.
Both programs focus on creative collaboration, dividing students into bands where they work together, using today's music technologies to write, record, and perform their own original material, shoot a music video and create an EPK. Industry related field-trips and workshops, as well as extra-curricular activities such as volleyball, swimming, soccer, games, and movies are also part of both programs.
The three-week program in Costa Mesa includes a tour component where students perform at venues across the state for local headlining bands.
Another first this year is the option for students to participate in both camps for a total of 5-weeks of fun in the world-renowned summer music camp.
Online registration is happening now at TCS Summer Camp Registration for all levels of musicians with a focus on guitar, bass, drums, voice, keyboard/piano and electronic music. Registration deadlines are May 28th for Costa Mesa, and June 14th for Portland.
About TCS
The Collective Sound, a 501c3 non-profit, provides youth from varying socio-economic backgrounds with an authentic experience in a variety of music genres through its summer music camps and its Creative Labs after school music programs. For over a decade TCS has been filling a gap in music education with programming that emphasizes collaboration and creativity as well as technical and instrumental skills. It has worked together with industry leaders like Capitol Records, Volcom Entertainment, Sabian, the D'Addario Foundation, Gallien-Krueger, Gretsch Drums, Gibraltar, Dunlop, Roland, Digidesign, Yamaha, and Genz-Benz to give both boys and girls insight into today's music industry. It is the first ever summer youth music camp to offer a touring component.
For more on the camp experience and The Collective Sound, check out the Web Series The Story of The Collective Sound
"As soon as camp was over, I couldn't wait for it to start up again," says student, Andrew Rywak.
###