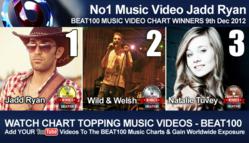 BEAT100 has become an inseparable part of my life now," states Jadd. "Everyone talks about it and I'll never forget its important role in my career.
(PRWEB) December 11, 2012
The Iranian, country-influenced singer, Jadd Ryan, has found himself in the top spot of the BEAT100 Music Video Chart for the second time, despite the obstacles he faces when using the internet in his home country. Jadd, real name Sajjad Taherian, opened up to BEAT100 about his struggle to be a musician due to networks, such as YouTube and BEAT100, being banned by the Iranian government. "Even though I use anti filters, I can't open the websites most of the time", says Jadd. "The only thing I want is to get out of here and live somewhere good, but it's so hard for an Iranian to get a visa. I believe BEAT100 can finally help me prove myself so I can get an artist visa." However, Jadd does not struggle in getting votes from his friends, fans and BEAT100 users thanks to his immense talents and impressive cover of Blake Shelton's, 'God Gave Me You'. BEAT100 immediately knew Jadd's talents deserved to be rewarded, and therefore gave him two BEAT100 Gold Awards for his high quality video and impressive performance qualities. Jadd also received two lots of bonus votes for being the third most viewed video two weeks in a row.
Jadd spends his time working on his singing, song writing and music/video production to help his career take off the way he dreams it will one day. Jadd completed a course in Music Production at Berklee College of Music, and now works with artists in Iran at his home studio. Although Jadd is now predominately a music producer, he still spends valuable time singing, song writing, and promoting himself on-and-offline in order to get noticed. "BEAT100 has become an inseparable part of my life now," states Jadd. "Everyone talks about it and I'll never forget its important role in my career." The Kenny Chesney influenced singer and reoccurring BEAT100 Music Video Chart winner plans to continue his musical journey with his head held high and a bright future ahead of him.
Second place goes to Wild and Welsh
Musical duo, Robert Wild and Steven Welsh, took second place in the BEAT100 Music Video Chart with their original song, "Stranger". The video received two BEAT100 Silver Awards for their well written song and high quality video, which then led to their video receiving bonus votes for being the second most viewed video over the period of two weeks. The video received over 10,000 views and 3,000 votes, which landed them a place in front of young singer-songwriter, Natalie Tuvey, who previously beat Wild and Welsh to the top spot. Robert Wild and Steven Welsh both believe that music is an expression created from within, with the help of inspiration from new, creative songs. When writing, the duo both believe in being true to themselves and ensure their creativity is conveyed in the right way.
"BEAT100 has given us the stage to present our music to the world," says Wild and Welsh. "There is no bigger achievement, for us, than being recognised as quality songwriters. Being part of the BEAT100 community is fantastic, with artists linking from all around the globe. What better way is there to present talent to record companies and publishers?" Wild and Welsh's video consisted of a hand drawn animation, including their idea of using motorbikes and rocky guitars.
Natalie Tuvey Lands Herself in Third Place
The talented, 13-year-old, Natalie Tuvey found herself in third place in the BEAT100 Music Video Chart, landing herself the $100 cash prize with 9,000 video views and just under 3,000 votes from BEAT100 users. The video received two BEAT100 Silver Awards for her well-written song and professional video. The singer-songwriter has been writing since the age of 11, and has been improving year by year, song by song. The Jessie J influenced singer recently released an original song called, "Don't Cry", in which the proceedings are being given to charity. Natalie received a letter from the House of Commons congratulating her on the impressive original song and for donating to a good cause. Since Natalie's last chart entry, she has performed her own songs at very prestigious venues across London, and will be performing again in the very near future.
The Yorkshire-based singer is in the process of recording all of her 15 original songs, and plans to release a debut album in mid 2013 for her fans and listeners. The up-and-coming youngster co-writes with musician, Rob Elliot, who also arranges the music to her songs. Tuvey's songs mature and grow each time she releases something new, and BEAT100 are looking forward to the song that will grace the BEAT100 Music Video Chart next!
BE SEEN – BE HEARD – BE REWARDED
By Kelly Donovan