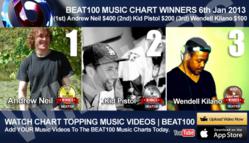 I never in a million years thought one of my entries would win," says Andrew. However, thousands of fans on BEAT100 made that happen, resulting in Andrew's video receiving over 10,000 views, 3,167 votes.
(PRWEB) January 10, 2013
Singer-songwriter, Andrew Neil, did not always have his heart set on writing and performing music. Before April 2009, Andrew focused all his attention on athletics and was recruited by the US Military Academy (West Point) to play Division 1 Lacrosse. Andrew soon decided to join the US Marine Corps and was set to go to Paris Island for basic training in May 2009. However, Andrew's plans changed when he was involved in a serious car accident due to an illegally stopped car in the fast lane of a highway in Virginia. Andrew smashed his head on the windscreen after hitting the stationary car at approx. 50mph. He was soon after air lifted from the scene via helicopter and transported to Fairfax Country Emergency Room. After receiving several stitches on his skull and arm, he was sent home. Although the hospital at first appeared oblivious to the head injuries Andrew had suffered from the collision, they soon discovered he had sustained a mild brain injury and was incredibly lucky to survive under such severe circumstances. The only positive outcome from the accident appeared to be Andrew's newfound passion for songwriting.
Now, after years of writing, Andrew's repertoire and skills have increased rapidly. Andrew uploaded one of his original songs, "Forever Ever Evergreen Tree" to BEAT100 music charts after voting for fellow user Josh Taylor. "I never in a million years thought one of my entries would win," says Andrew. However, thousands of fans on BEAT100 made that happen, resulting in Andrew's video receiving over 10,000 views, 3,167 votes and a BEAT100 Silver Song Award. "BEAT100 is a wonderful network," says Andrew. "It allows people to develop their artistic dream, express themselves, be heard and, most of all, make a difference to the lives of others through their music and words."
Kid Pistol (real name Josh Calderon) developed a passion for music at the age of 16 when his older brother bought him music production software at a local shop. Soon after, Kid spent all his spare time creating new sounds or songs that would meet people's demands, whilst also bringing something unique and unheard to his music. Kid uploaded his original song, "MayDay" to BEAT100, featuring long-term collaboration Noraa Ish and pianist Alan Logston. The entry received a BEAT100 Gold Song Award, Gold Favourite Award and Silver Video Award, along with 2,472 votes from BEAT100 fans and over 9,000 views. "I was looking for anyway to get my name in others mouths, online in forums or websites," says Kid. "Anything would help."
Despite Kid's current up-and-coming career, things were much harder when he was growing up. Although Kid lived in a world without electricity or hot water, the distance between him and his father was the biggest struggle. In the year of 1996, Kid awoke to sudden screaming and violent shaking coming from his father, which was later diagnosed as epilepsy caused from an earlier surgery to remove a brain tumor. His father was later diagnosed with prostate cancer, in which the battle was won. However he suffered from a stroke years later, which paralyzed him and left him unable to speak, followed by another stroke, which was sadly fatal. Kid made a promise to his father and to himself that he would continue to work on his music in dedication to him, and has kept that promise ever since.
QDS Records is a small company made up of Rodney Maragarita (A&R), Ragna Magarita (A&R) and Wendell Kilano (Artists/Producer), who put their energy together to create a platform for professional and amateur artists. Their BEAT100 entry featured Wendell Kilano, Chy-kyria and Fleur, and received two BEAT100 Gold Awards for their original song and high quality video. Their video was in a close battle with Kid Pistol for the second position, but was just topped over the last few days. However, QDS Records still managed to receive a whopping 2,542 votes and over 8,000 views from BEAT100 users and fans over the course of the chart. "Our goal is to get QDS Records recognized and seen, which we couldn't have done without our BEAT100 friends," say the QDS team. "We found BEAT100 because we were looking for places to drop our videos and this is the spot. It's a really healthy and honest environment for musicians all around the world!"
The BEAT100 entry, "One Of Those Nights" is the first song to be released by QDS Records and is the first of the many uplifting yet edgy songs to be released in the future. Wendell Kilano started out as a dancer in the early 80's, but soon discovered his passion for producing and performing good music in the 90's. The track also features Dutch X Factor winner, Chy-Kyria, who is known as one of the greatest singers in Holland. Last to be heard on the track is female singer, Fleur, who is heard rapping for the first time in the catchy tune and video.
By Kelly Donovan
BE SEEN – BE HEARD – BE REWARDED