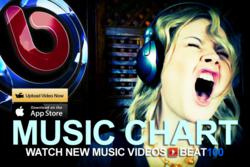 BEAT100 is dedicated to helping bands and fans connect.
(PRWEB) January 14, 2013
BEAT100.com, the all new and exciting social and music network that has it all is gaining momentum, the brand new social video music network offers users the chance to enter its Music Video Chart. Anyone who enters BEAT100's music charts will be in with a chance of winning cash prizes and gaining worldwide exposue.
The Music Charts are a perfect opportunity unsigned bands and musicians to upload a music video and showcase their talents to the world. BEAT100 is not solely dedicated to helping talented people gain exposure though. BEAT100 is intended to be a platform upon which users can build an online community, share videos with each other and just have fun. Users that do not wish to enter the music charts will still be able to enjoy a unique social networking experience and their videos will be stored on BEAT100's video network.
BEAT100 Social Network is completely free to use and an exciting new way to broadcast talent around the world... There is no other online community that can offer cash prizes and all of your social networking needs.