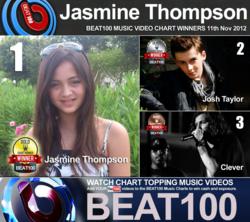 Another BEAT100 Music Video Chart was compiled and three talented musicians were rewarded for their entries.
(PRWEB) November 14, 2012
On Sunday 11th November, yet another BEAT100 Music Video Chart was compiled and three talented musicians were rewarded for their entries. First place was awarded to the young and talented Jasmine Thompson for her cover of Lana Del Ray's "Summertime Sadness", which received just under 3,000 votes and 13,000 views. Jasmine received two BEAT100 Silver Awards for her impressive vocal performance and high quality video, which helped her climb to the top of the chart, along with her supportive fans. The London-based singer studies performing arts, along with the national curriculum, at a leading theatre school and has been uploading videos onto YouTube for the last 18 months under the username, 'TantrumJas'. Thompson is influenced by female artists, such as Jessie J, Taylor Swift and Lady Gaga, yet has covered a massive diversity of music on her YouTube channel, including Elton John, Pink and Regina Spektor. Her channel now features over 40 uploads, with over 5,000 subscribers and 600,000 video views. "Jasmine's friends on YouTube suggested she should have a go on BEAT100 and the journey has been a real inspiration because so many supporters, existing and new, have put in so much time to vote for her," says Jasmine's mother and biggest inspiration, Yan. "It has been an inspiring experience, cementing the relationship between Jasmine and all those who love what she does."
Jasmine's mother, Yan, was the first to recognise her musical talents and has supported Jasmine throughout the journey. Due to Jasmine's age, the support of her family is essential in order to achieve the highest success in the industry, therefore Yan found Jasmine a vocal coach who has helped to improve her confidence levels and singing technique. Jasmine counts winning the BEAT100 Music Video Chart as a fantastic achievement, along with many others. She got through to the London final of the Open Mic UK in the Under-18 category at the age of nine and performed live in a large theatre in front of hundreds. She also made the final ten in the vocal performance section of the Unsigned Only Music Competition, in which she was up against 7,500 rivals, including adults from all over the world. Clearly, Jasmine Thompson is unstoppable in the world of music and BEAT100 expect to see more impressive videos from the talented pre-teen in the very near future.
Second place went to talented singer-songwriter, Josh Taylor, who received 2,657 votes for his original song, "Time And Again". The brilliantly written song has already been played on various radio stations worldwide, and has been featured on Sky TV since its launch. At only 14, Josh has displayed his intense passion for music to the world, and has already recorded many original songs, which will be compiled into an album in 2013. The musical genre of Josh's music is a hard to place due to the level of his complexity and originality, but Josh has come to label it as 'pop with an edge'. Although pop is his predominant style of music, Josh also tends to incorporate other genres whether it's rock, reggae or musical theatre. This 'edge' is the result of being influenced by a massive range of artists, such as Queen, Michael Bublé and Bruno Mars. "I first found BEAT100 having been introduced to it by Natalie Tuvey [previous first place BEAT100 Music Video Chart winner] a couple of months ago. It has been a great experience and it is a good platform to be heard through," says Josh. "It is definitely something I will try again when my next song is finished or maybe even before then. I have met some great people and have made many new friends on BEAT100."
Although Josh Taylor is passionate about pop music, he is also an experienced actor and has been training for the majority of his life, including courses at places such as the National Youth Music Theatre, The Lowry Young Actors Company and The Octagon Theatre. He has also performed live in front of large audiences across the UK at top notch places like The Albert Halls, Shoreditch Theatre and Trafalgar Square. Josh Taylor has already proven to have excelled in the world of performing arts at such a young age and hasn't planned on giving up his career anytime soon. Josh is now working with songwriters and producers in the UK, Ireland and America and has already launched his own indie label, Cloud9Records. With the young singer's fan base growing every day, it won't be long before you hear Josh Taylor's music in the Top 40 Music Chart or as a lead in a west end show.
The third place of the BEAT100 Music Video Chart goes to 27-year-old rapper, Clever (real name Josh Huie), with his original track, "Pluto". The Jay-Z influenced musician received a BEAT100 Gold Song Award and Bronze Video Award for his upload and receive 2,259 votes overall from supporters. Clever is based in Alabama, USA and has featured on National TV, plus media attention from his home state. The rapper has been on the music scene since the age of 12 and although he was shy, he slowly began releasing cassette tapes and building a fan base. Now, Clever has a huge fan base, in which many of them quote his lyrics and encourage him to keep doing what he does best. "I love what BEAT100 is doing and it has helped me gain some notice from different parts of the world, which I haven't had an opportunity to reach," he says. "I got to the top by advertising the site as much as possible on my Facebook and Twitter accounts, and then had hundreds of people from my area signing up daily to vote. I've had fun."
BE SEEN – BE HEARD – BE REWARDED