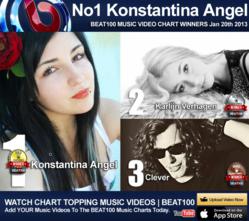 I love what BEAT100 is doing and it has helped me gain notice from different parts of the world", states Clever. "I have always enjoyed music and I will continue to do what I do best
(PRWEB) January 23, 2013
Seventeen-year-old, Konstantina Angel, from Kavala, Greece topped the BEAT100 Music Video Chart last weekend with her original track, "Just Your Touch". Konstantina's BEAT100 entry received a Bronze Video Award and Silver Song Award, along with just fewer than 4,000 votes and over 16,000 views, thanks to her supportive friends and fans both on and off of the BEAT100 Social & Music Video Network. "BEAT100 has been a really enjoyable experience and people are so supportive," says Konstantina. "I think BEAT100 has made a big achievement in creating such a beautiful page, in which people can show their talents without any costs."
Konstantina has been performing music for over 10 years, and has taken part in several celebrations in Greece, Serbia and Bulgaria. She attends a music school in her hometown of Kavala, Greece, and is working on improving her vocal and songwriting abilities. "I think music is the best way to have a break from my daily routine," says Konstantina. "It releases me from all the hard work I have to do all day, like studying." Konstantina plays musical instruments, such as the saxophone, clarinet and piano, and also takes part in kick boxing in her spare time. The young singer-songwriter presently has seven original songs, and continues to work on her original music every day.
Fifteen-year-old, Karlijn Verhagen, took second place with her cover of Taylor Swift's, "Red." The Netherlands based singer received a BEAT100 Gold Performance Award and BEAT100 Silver Favourite Award for her impressive video upload, and received over 3,500 votes from her supportive fan base. "I had no expectation at all about winning, or even finishing in the top ten," says Karlijn. "I am over the moon!" Karlijn received over 1,500 supportive comments from fans on her video, such as, "Beautiful voice, Karlijn!" and ranked over 22,000 views in only two weeks.
Karlijn is planning to attend a Music College in Rotterdam, The Netherlands, and wants to expand her music into a full career. She is currently working on improving her singing, guitar, piano and dancing skills, and spends the majority of her time outside of school working on this. Karlijn has appeared live on stage several times, including a feature on Dutch Television in a show called, "The Winner Is". Karlijn has also performed live in the finals of Zuid-Holland in front of 700 people, and has won several talent competitions. "If I could perform anywhere in the world, I think it would be in Madison Square Garden, New York," says Karlijn. "I went to New York a year ago and I loved the time I spent there. I would also love to perform with someone like Christina Aguilera, Beyonce or Adele." Karlijn Verhagen's aspirations are an all time high and will be making more music and videos in the very near future.
Alabama-based rapper Clever(real name Josh Huie) made a turn in the BEAT100 Music Video Chart last week when he suddenly climbed to third place, overtaking the young band, PinkleTank. Clever was given two BEAT100 Gold Award's for his impressive and high-quality video and well-written original song, along with a BEAT100 Bronze Favourite Award. The singer/rapper received over 2,300 votes on his BEAT100 entry, and just fewer than 13,000 views from friends, fans and BEAT100 users.
"The ability I have and my confidence motivates me, but I have lots of fans that quote my lyrics and encourage me on a daily basis," says Clever. "I have to say that inspires me to most." Clever believes his local support are the reason for his two-time victory, and has worked hard to get himself in the third spot. "I love what BEAT100 is doing and it has helped me gain notice from different parts of the world", states Clever. "I have always enjoyed music and I will continue to do what I do best."
BE SEEN – BE HEARD – BE REWARDED
By Kelly Donovan