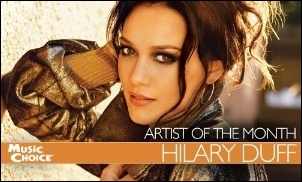 Hilary is very multi-dimensional with all the different aspects of her career, and this will be a very special Artist of the Month.
NEW YORK (PRWEB) April 20, 2007
HILARY DUFF launched her recording career at the same time she was becoming a film and television star. Her album "Metamorphosis" was #1 on the Billboard 200 and went on to sell close to 4 million copies with the #1 single 'So Yesterday.' Hilary's follow-up album, "Hilary Duff," featured the smash hit "Fly." Hilary's "Most Wanted" debuted at #1 on the Billboard 200 and was #1 in Canada. Hilary's latest album on Hollywood Records, "Dignity," hit stores on April 3rd, and was the highest selling debut of the week. Hilary says she loves singing and performing because through her music she can show the world her true self. Her words and moves reflect her mood. It is the most free form of expression. That's what Hilary feels is the great thing about making music.
"Music Choice put together a fantastic program for Hilary's fans to get an inside look into her life," said Disney's Hollywood Records Senior Vice President of Marketing, Ken Bunt. "Hilary is very multi-dimensional with all the different aspects of her career, and this will be a very special Artist of the Month."
"HILARY DUFF is one of the top performers on Music Choice's free video-on-demand music service with over two million views of her music videos to date," says Justin Prager, Director of Rock and Pop Programming for Music Choice. "We are excited to work with Hollywood Records to develop unique programming and marketing opportunities for the Hilary Duff 'Artist of the Month' program, exposing our millions of viewers not only to the hit music of Hilary, but also providing a glimpse into her other roles as a TV & movie star, a fashion designer, and a successful business entrepreneur."
Music Choice will offer several original programs in May featuring HILARY DUFF to watch at any time during the month of May at no charge. The Music Choice Originals include -
About Hollywood Records
The Disney Music Group encompasses all of the Walt Disney Company's recorded music and publishing operations, including Hollywood Records, Walt Disney Records, Lyric Street Records, Mammoth Records and Walt Disney Music Publishing.
About Music Choice(R)
Music Choice is the leading multi-platform music network that reaches millions of consumers nationwide through their TVs, online, and cell phones. Music Choice programs both video and audio music channels, produces Music Choice Originals, films in-studio artist performances and interviews, and distributes daily entertainment news. Music Choice is a partnership among subsidiaries of Microsoft Corporation, Motorola, Inc., Sony Corporation of America, EMI Music and several leading U.S. cable providers: Comcast Cable Communications, Cox Communications and Time Warner Cable. MUSIC CHOICE(R) is a registered trademark of Music Choice. Visit the Music Choice website at http://www.musicchoice.com.