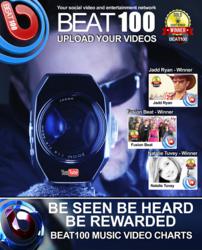 The BEAT100 Social Network is growing more and more every day, with new users joining and videos being uploaded every hour
(PRWEB) December 06, 2012
BEAT100 has created the perfect platform for musicians to promote their music and make new connections in the music industry. Although social networks such as Facebook and Twitter allow musicians to promote their music, BEAT100 offers a new and exciting way to gain worldwide exposure and a database of people to connect with.
Music:
The BEAT100 Music Video Chart allows musicians to upload their videos and, unlike YouTube, gain more views and rewards for their hard work. Every 14 days, the Music Video Chart is compiled and the Top 3 winners are rewarded with cash prizes and a worldwide press release. BEAT100 believes that good music should be heard by as many listeners as possible and will ensure this happens.
Musicians can also receive BEAT100 Awards for their uploaded videos, whether it's for a well-written original song, high quality video or an impressive performance. Users can also win the ultimate BEAT100 Favourite Video Award for a video that has thoroughly impressed the team here at BEAT100.
Social:
BEAT100 is perfect for users who are looking to socialise with new or current friends. Unlike Facebook, BEAT100 makes it easy for users to make new friends who have similar interests to them. Post status' on the BEAT100 Social Wall, share pictures and videos with friends and fans, and use live chat or private messaging to connect with the people who matter most.
Fans:
BEAT100 offers the perfect set up for fans to support their favourite artists and to find new music and bands to listen to. Everyone is able to vote every 24 hours on each video so support is essential for these aspiring artists. BEAT100 also features a 'Bands' page which enables users to check out new bands and listen to their uploaded MP3s. The 'Events' page also allows users to check which bands are playing locally and when to ensure they never miss out on their favourite band playing a gig!
Entertainment:
BEAT100 is also a great place for other users to uploaded videos to the BEAT100 Video Network of absolutely anything! We get a massive range of video uploads from comedy & blogs to sport! BEAT100 holds no limits and is a place for everyone to enjoy our great features to their full potential.