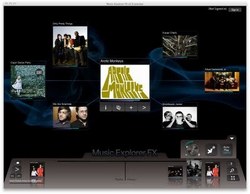 The Echo Nest/Play.me program allows really amazing music applications, like Music Explorer FX, to shine by opening up millions of new songs for them to use. MEFX demonstrates the new opportunities this program brings to developers and music lovers
Chicago, IL (Vocus) May 18, 2010
Music Explorer FX (MEFX), a visual tool for discovering new music, was used by The Echo Nest, a music intelligence company, at Music Hack Day San Francisco this weekend to showcase how its recent deal with Play.me, an on-demand music playback service, will make it easier for developers to build music applications using The Echo Nest APIs by opening up Play.me's licensed music catalog of millions of songs.
Music Explorer FX, which won the 2009 JavaFX Coding Challenge, was created by Sten Anderson , a Technical Architect at CityTech, Inc., a Chicago-based IT consultancy specializing in the development of enterprise applications. Music Explorer FX is an example of CityTech's industry leadership in developing media-centric applications for both the enterprise and consumer.
MEFX was a natural choice to highlight the expanded development opportunities of the The Echo Nest and Play.me deal. MEFX uses Echo Nest's public web services to take users on a "musical journey" once a user enters the name of a favorite musician. The "musical journey" provides the user the ability to listen to music, view images of the artist, and follow links to view videos, reviews, news and blogs.
"The Echo Nest/Play.me program allows really amazing music applications, like Music Explorer FX, to shine by opening up millions of new songs for them to use. MEFX demonstrates the new opportunities this program brings to developers and music lovers," Paul Lamere, The Echo Nest's Director of Developer Community says.
CityTech has extensive real-world experience developing innovative applications to enhance businesses across industries, including retail, healthcare, telecommunications, and government. To learn more about our "architecture-first" approach to creating and integrating enterprise applications and integrations, read our case studies.
About CityTech, Inc.
CityTech is a Chicago-based IT consultancy specializing in the development of highly available, extensible and scalable enterprise applications. We believe the best enterprise solutions are created by technical architects who understand business-related issues and possess the expert knowledge of strategic technology platforms used today and positioned for tomorrow. CityTech consultants' grasp of both business and technology ensures that the systems we design won't constrain your organization, but can adapt to meet ever-changing business needs. For more information on CityTech, contact Matt Van Bergen at 312.673.6433 x111 or Melissa Geoffrion at 312.673.6433 x148.
###