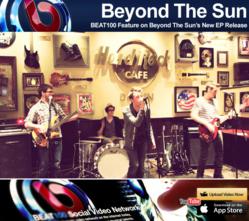 Using BEAT100 as their starting point, it looks like we're in for a European takeover from the boys within the next year
(PRWEB) January 21, 2013
With a Top 40 hit, over 100,000 YouTube hits on their latest single and riding out their first US tour with Hard Rock Café, the Ontario trio are already touching the sky with their rock/pop magic.
Beyond The Sun was Set up by the Radu brothers, Phil (lead guitar), Dalton (drums) and Colin (vocals and rhythm guitar), they all discovered their musical abilities at a young age. They formed their first 4-piece band, 'Hidden Echo', in 2003 at the tender ages of 12, 9, and 7. With Phil on guitar, Dalton on drums, Colin on bass alongside their former lead vocalist, the band were the youngest act in history to play in the industry showcase at the Canadian Music Week in 2004 and were the youngest finalists ever of the 97.7 Htz FM Rock Search. They had already toured summer camps in New York and New Jersey, recorded CD's and had numerous battle of the bands title's under their belts by 2005.
The end of 2005 saw the band split ways with their lead vocalist and reform as the 3-piece 'Beyond the Sun' with Colin taking over lead vocals. They continued to write and by December 2009 they had released their music video for the single 'Jekyll & Hyde' and performed at the Air Canada Centre for the Toronto Rock Lacrosse half time show in February 2010. Through their talent and success, the band has developed many partnerships with big names in the industry such as Eric Bass of Shinedown and Boys like Girls producer Rick Beato.
So how have this band made such ground work with an enormous level of potential so young? "By working hard, educating ourselves...and a lot of dedication" Says drummer Dalton Radu. No kidding. As well as their plentiful accomplishment, Colin has been taking singing lessons since turning 9 and has recently been studying at the Ken Tamplin vocal academy in Los Angeles. Dalton has been studying with drum technician Danny Brown since 2005 and is also currently studying music production on the phenomenal Berklee College of Music's online course programme. Also, Phil has been studying at Berklee College of Music in Boston, MA as a song writing major since autumn 2010.
The band's knowledge and professionalism definitely comes across in their latest EP and BEAT100 video, titled as the first single 'My Kind of Crazy'. The harmonies of the single it's self grab you by the ears, making the replay button irresistible. Their hard work reflects well on this record, with a mature sound beyond their years. With catchy hooks you can along to in the first play, universal lyrics and carefully crafted harmony and instrumental lines this band could go far and easily tour with their idols The Fray and Train.
So what's next for the band? "This January, we're going to be represented by Jan Cooper of Pump Records (Vancouver, Canada) at [the music industry conference] Midem in Cannes, France". Using BEAT100 as their starting point, it looks like we're in for a European takeover from the boys within the next year! Stay tuned.
Be Seen – Be Heard – Be Rewarded
By Rebecca Blaker