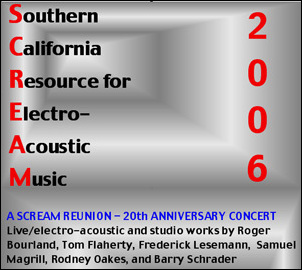 Wu Xing - Cycle of Destruction
Los Angeles, CA (PRWEB) October 28, 2006
The Southern California Resource for Electro-Acoustic Music presents a 20th anniversary SCREAM Reunion concert on Saturday, November 4, at 8:00 P.M. in the Music Recital Hall of Los Angeles Harbor College. SCREAM was started in 1986 by Barry Schrader as a way to present new electro-acoustic music from composers based at colleges and universities in the Los Angeles area. Originally a consortium, SCREAM later became a series curated by Schrader. The 20th anniversary concert will present live/electro-acoustic and studio music by the original members of the group: Roger Bourland, Tom Flaherty, Frederick Lesemann, Samuel Magrill, Rodney Oakes, and Barry Schrader. Featured performers for SCREAM 2006 will include Cynthia Fogg on viola, Rodney Oakes on Trombone, William Powell on clarinet, and Susan Svrcek on piano.
Two of the works on SCREAM 2006 will be world premieres. Barry Schrader's "Wu Xing: Cycle of Destruction" (solo electronic version) and Rodney Oakes' "Variations on the Krakow Fanfare" for MIDI Trombone will receive their first performances.
Schrader's "Wu Xing - Cycle of Destruction" deals with the Chinese concept of Wu Xing, the five elements in ancient Chinese tradition: wood, fire, earth, metal, and water. These are important in Chinese astrology, medicine. and BaGua, a system of trigrams used in Fengshui and other areas of Chinese life and culture. The five elements are often arranged in one of two cycles: the cycle of birth, ending with earth, or, as in this work, the cycle of destruction: Metal, Wood, Earth, Water, Fire. "Wu Xing - Cycle of Destruction" deals with these elements in transcendent ways. The "Metal" and "Wood" sections are aural depictions of the elemental density of the mediums, while "Earth" considers the metaphysics of planetary rotation and revolution. "Water" reflects on the conceptual aspects of the world's oceans at various depths, voyaging from the darkest abyss to the light of distant shores. Finally, in "Fire", there is the physical and spiritual effects of all-engulfing flames.
Oakes' "Variations on the Krakow Fanfare" is based on music surrounding an 800 year old Polish legend. In medieval times, Poland was invaded by the Tartars and the first person to see them advance towards Krakow was a trumpeter who was in one of the high towers of St. Mary's Cathedral. The Trumpeter began blowing his fanfare over and over, but was shot though the neck by a Tartar arrow. He died as the arrow pierced his neck while playing what has become known as "the broken note". Ever since then the trumpet fanfare has been sounded from the same tower on the hour, breaking off on the note where the original Trumpeter died. At noon, the Krakow Fanfare is played on national radio throughout Poland.
# # #