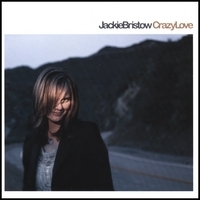 Monterey, CA (PRWEB) June 2, 2008
Jackie Bristow's 12-song "Crazy Love" CD was released in Australia during December 2007 by indie label Craving Records and will be released in North America on June 17 by indie label BeanBag1.com through Burnside Distribution at the suggested retail price of $9.99. The albums producer Helik Hadar and musical director Larry Klein are the engineer and producer of the 2008 GRAMMY® Award winning "The Joni Letters" by Herbie Hancock. Bristow's CD received immediate critical acclaim:
"Jackie Bristow's "Crazy Love" is a hypnotizing collection. Bristow is a true original and well worth your attention." - Chet Flippo, CMT Nashville Skyline.
"Crazy Love" is superb musicianship, good hooks that flow naturally rather than being contrived, and awesome melodies. " - John Shelton Ivany Top 20.
"Bristow's voice is sophisticated and soulful. Lovers of finely crafted tunes combined with perfectly delivered vocals should definitely listen up" - The Press, New Zealand.
Three tracks from the "Crazy Love" CD were chosen for inclusion on the Starbucks in-store radio, video, & download system. Jackie's songs were also used in the New Zealand TV hit "Outrageous Fortune" and by New Zealand Airlines as their boarding video. Track 1, "The World Is Turning," was awarded Honorable Mention at the 2008 International Songwriting Competition and the video charted as high as #38 on Australia's Country Music Channel Top 50 through February 2008.
Jackie Bristow, originally from New Zealand, will tour the United States starting with a CD release party on June 22 at Monterey Live in Monterey, CA, beginning at 8PM, and the next night, June 23, at Don Quixote's in Felton near Santa Cruz starting at 7:30PM. The tour continues through July 11 when Jackie will be opening for Phoebe Snow at Birchmere in Alexandria, Virginia, and appearing on Long Island at Stephen Talkhouse July 13. Radio promotion and CD service for Jackie Bristow's "Crazy Love" will be coordinated for the label by music veteran J.P. Mosoff, whose direct-line is 831-238-7425. Burnside Distribution will coordinate physical and digital distribution and can be reached at 503-231-0876. Bristow's manager David Bean can be contacted through the Monterey, California-based label's website, http://www.BeanBag1.com.
The BeanBag1.com label also has in release on CD, "Kiss The Monster" by P. Hux, and former Grateful Dead manager Rock Scully's "Summer Of Love Oral Archive," both manufactured and distributed by Voiceprint Records in the United Kingdom. Upcoming North American releases include, "US1" by Barry Cowsill, the previously unreleased rock album finished by the artist with his band just before the tragedy in New Orleans during Hurricane Katrina.
###